"I was her carer - now we've got that 'mother-daughter' relationship back again" – respite care was Angela's saviour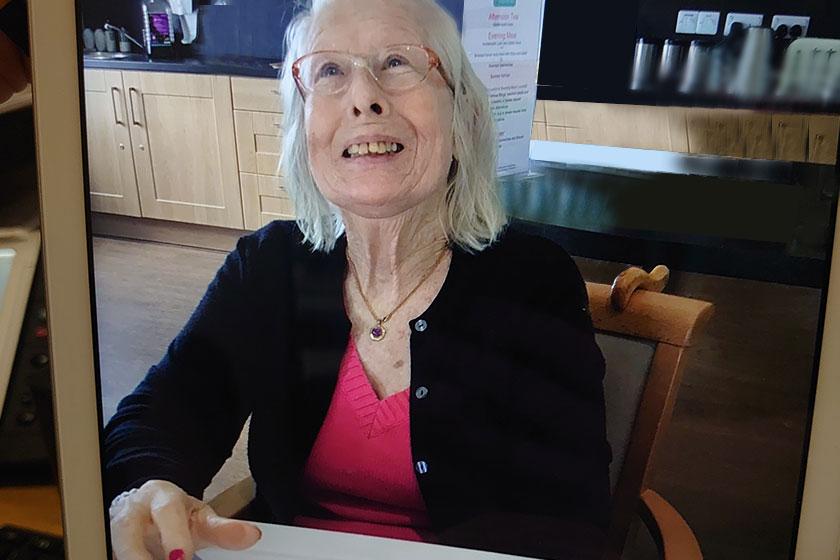 For Angela Mordekhai, caring for her mother Doris, who lives with dementia, was exhausting and put a huge strain on their relationship – until she found respite care.
Doris suffered several falls at Angela's home and would go for walks without telling her daughter, frequently getting lost. After doing her research Angela booked Doris a respite break at our Briggs Lodge Residential and Nursing Home in Devizes. They were so happy Doris has now moved in permanently.
Angela says: "She settled so well at Briggs. She was being well cared for and was as happy as she could be – I didn't feel I had the capacity to provide that full time care and keep her safe. I thought 'how can I bring her home where she will fall and wonder?'"
Angela loves how the move has restored their relationship. Doris felt unhappy that the 'mother-daughter' relationship had changed to 'mother-carer' when they lived together. 
"That tension has gone and there are other people caring for her – so when I visit I'm purely there to see her and have an absolutely great time with her," Angela says. "We've got a good relationship again. I was her carer and now we've got that mother and daughter relationship back again."
Angela says most importantly, Doris is so happy in her new home.
"She loves the place," she adds. "The staff are very caring and mum loves them to bits. One of the carers paints her nails and another plaits her hair which she loves, they have a lovely relationship with her."
And another highlight is the food, with Angela having to buy Doris, whom she says is a "fussy eater" some larger clothes she enjoys it so much!
She adds: "I've really seen a difference in her, she's not got to worry about anything now - it's really comforting and reassuring.
"Mum loves music and the home had a fantastic singer in – every time I go, she talks about it. And the new manager Alison is absolutely smashing. She and her deputy Michelle are so approachable and keep me up to date with mum's care."
For Angela, knowing the staff are so experienced is reassuring, especially as Doris lives with a type of dementia that can cause hallucinations.
"I feel comforted that they know what they are talking about in terms of how her dementia could progress and they are prepared for it. There is such open communication."
For more about life at Briggs Lodge our Enquiry Support Team are here to talk on 0800 917 0478.