Supporting Helen to kickstart a bright new career in care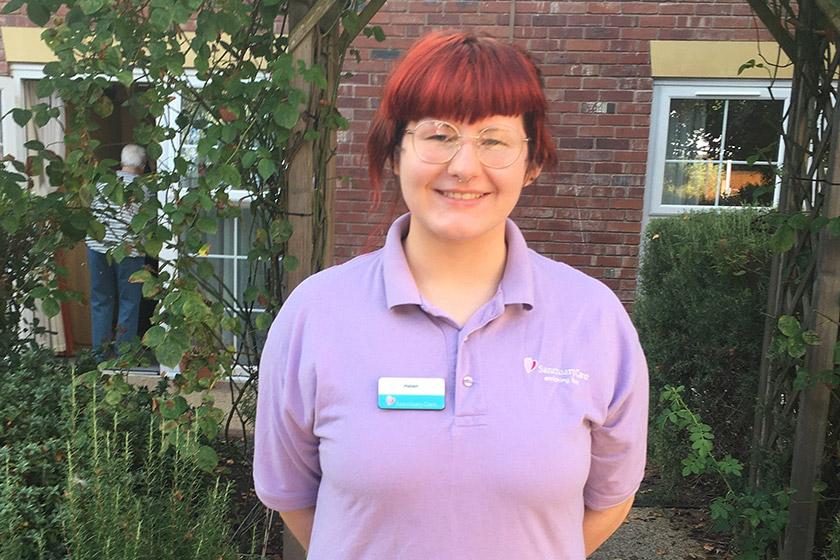 Helen Walsh is thriving in her care career since she joined Sanctuary Care through the Government's Kickstart scheme.
The placement is part of the Government's programme, which funds work opportunities for unemployed young people entering the workforce at the early stages of their career in a range of sectors. 
Helen started as a wellbeing assistant at Upton Dene Residential and Nursing Home in Chester in March 2021 and she has now secured a role as a full-time care assistant.
Falling in love with adult social care
Before joining our team, Helen was studying Digital Forensics at university; however she quit her course during the pandemic due to poor mental health.
She was delighted when the opportunity came along to join the team at our luxury care home, which provides a range of care including residential care, nursing care, dementia care, respite breaks and palliative care.
I have fallen in love with adult social care, and I see myself working in the sector for a very long time.
Engaging with residents
As a wellbeing assistant, Helen enjoyed getting involved in the activities and spending time with our residents, reading stories and playing the clarinet to them.
She said: "I enjoy talking to the residents and listening to them. They have a lot of interesting stories to share."
Her biggest achievement so far is introducing a greater variety of musical activities to the home and engaging our residents through listening to and making music.
She brought in some of her own musical instruments for the residents to try out and they loved it.
A passion for residents living with dementia
In her new role as a care assistant, she has developed a passion for helping residents who are living with dementia.
She encourages them to take part in the activities programme to boost their mental and physical wellbeing.
She said: "I didn't know much about dementia until I started. I knew the basics about memory loss and this opportunity has opened my eyes a lot more. I enjoy helping them stay active and stimulated."
Living with depression and anxiety
As a teenager, Helen was diagnosed with long-term depression and anxiety. She feels that the supportive culture at the care home has helped her to flourish in her role.  
Talking about her mental health, she said: "Sanctuary Care is very supportive. It's an empathetic place to work and everyone is so understanding. I can talk openly about my feelings with the team which helps me to do my job well."
Praise for Helen
Home Manager Tracy Mitchell said: "Helen is an asset to the team. She has a great connection with our residents and has developed a strong bond with some of them, especially those living with dementia.
"Sanctuary Care is a fantastic place to work. Our staff at Upton Dene support each other, which makes it the perfect environment for Helen. We are providing training and support to give her the best start in her care career and I'm sure she will go far."
Kickstart brings diversity to the care sector
Neil Quinn, Director of HR – Sanctuary Care said: "We are extremely proud to be able to play our part in creating opportunities which really can be life-changing for young people.
"Recruiting young people into our workforce brings diversity, fresh skills and new ideas, which will no doubt enrich the lives of residents, staff and our organisation."
Helen is one of over 100 people aged 18 to 24 of whom Sanctuary Care has welcomed into its care homes to carry out work placements through the Kickstart programme.
To find out more about a rewarding career at Sanctuary Care visit our careers page.