From loneliness to companionship – why Doris loves life at Westmead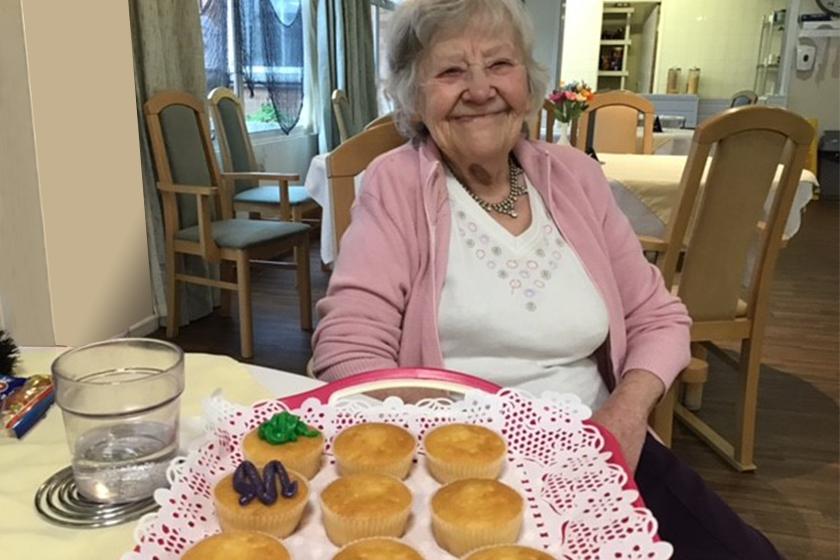 When Sue's mum Doris was living alone, despite having home carers visiting daily she was struggling to cope and enjoy life.
Living with dementia, she was found lost in the village one day and Sue knew they couldn't continue like this. Somebody recommended our Westmead Residential Care Home in Droitwich and over three years later, Doris is still delighted to call this home.
"At home she was getting lonelier and lonelier, and she wasn't doing anything," say Sue. "The home carers were lovely, but they had a time slot of half an hour, two to three times a day, and there's only so much they could do.
"The staff at Westmead have so much more time to spend with her and she's really come out of herself. You can tell she is happy; she's always laughing!"
For Sue, it's the social side of life at Westmead which supports Doris to thrive and enriches her life.
"There's so much to keep her occupied. There's never a dull moment and the activities coordinator Kate is brilliant.
"Her room is lovely and overlooks the garden, but she's downstairs socialising most of the time! She loves it, she is such a sociable person who just likes to have fun."
As well as visiting regularly Sue likes to stay connected through the home's private Facebook page for relatives, where the home can share news, photos and videos.
And for Sue, the peace of mind she has now, compared with when Doris lived alone, means so much.
"We used to live in fear when she was at home on her own, we'd get phone calls saying she was wondering round the road. Now we know that she is safe and she's very happy."
For more about life at Westmead or any of our other care homes, our Enquiry Support Team are here to talk on 0800 917 0478.