Kim is flourishing at Brambles
For Kim Brown, volunteering at Brambles Residential Care Home, has given her more confidence than she ever imagined.
Through Worcestershire's Mencap Employment team, who support people with learning disabilities to gain employment, Kim found that spending time volunteering at our care home in Redditch had enormous benefits.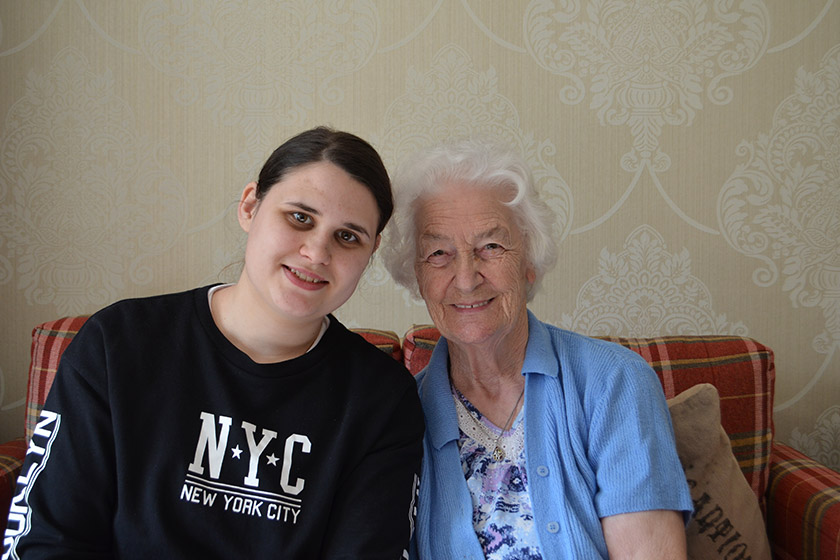 "I was really shy at first but now I'm not. I am meeting new people and talking to them and I really enjoy it," she said.
Kim spends two days a week at Brambles, plus one day a week at her Mencap Supported Internship.
Growing in confidence all the time
From being very reserved, Kim has developed so much she even leads activities for the residents independently, such as the quizzes. And when she needs a little support, Brambles' residents are the first to help.
She added: "Dorothy has been teaching me to knit and the residents have definitely helped me with my reading."
Having spent a lot of time with her own grandparents, supporting them with cooking and staying with her grandmother overnight, Kim feels a strong connection with the older generation.
"My nan is really proud of me for doing this and she's really noticed that my reading is getting better."
A close bond
Kim loves being in the care home and spending time with the residents. She said: "I love talking to them and find it so interesting hearing out about their past lives."
The home's activities coordinator Fiona Morsy has been there to support Kim every step of the way and is so proud of how far she has come. She said: "She was so shy at first but once she started having conversations with the residents and getting to know them, the progress was amazing.
"Her confidence has flourished and her enthusiasm is amazing. She has such an excellent rapport with the residents."
Fiona says it's lovely to watch Kim standing in front of her residents, confidently reading out the quizzes, which she has written herself. Her confidence has grown so much that her Mencap tutor doesn't even need to accompany her during her visits.