A local ten-year-old is hailed a volunteering hero for her inspiring support to a Sanctuary Care home in Romford, Essex.
Giving something back
Teigan Hewitt has been generously giving up her spare time to support residents at Chadwell House Residential Care Home in Chadwell Heath Lane, where her 89-year-old Great Grandmother, Sarah Cook (pictured) lives.
Being a regular visitor, Teigan, who wants to become a nurse when she grows up, instantly built lasting bonds with everyone in the home and wanted to give something back, so came up with the idea of becoming an official volunteer.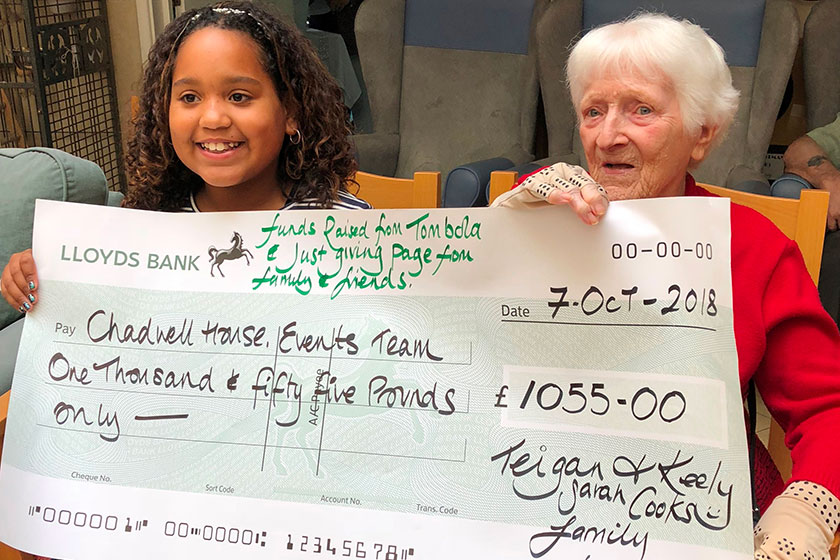 Raising over £1k for residents' activities
Linking in with Sanctuary Care's volunteering programme, Teigan has rolled up her sleeves to support with activities within the home, with her biggest success to date being a Tombola stall where she raised over £1,000 for the home's activities fund.
Teigan (also pictured) said: "I love visiting Chadwell House and I wanted to do something myself for the residents, especially as I want to be a nurse one day!"
Explaining why she chose to donate to the activities fund, Teigan continued: "I have seen how much everyone enjoys the activities in the home so wanted to support that – they take part in musical bingo and singing for the brain, it's a lot of fun and important too."
Teigan is a Dementia Friend too!
As well as supporting with events and fundraising, the youngster has also become a Dementia Friend – an initiative from the Alzheimer's Society, thanks to support from the home's team.
Teigan added: "I have learnt so much from my time at Chadwell House, there are many ways we can all help with people living with dementia. The small things everyone can do really do make a big, big difference."
"…she is our volunteering hero."
The home's activities leader Tracy Flanagan said: "You really cannot put into words what a superstar Teigan is – she is our volunteering hero. She is so kind, generous and warm, and only 10 years old – she really is amazing! She is a big part of the home and we are all so proud and thankful of her."
Sanctuary Care's senior work programmes officer Yunus Giwa concluded: "We are so thrilled to have supported Teigan – she is Sanctuary Care's youngest ever volunteer! The money she has raised is a phenomenal achievement. We are enormously proud of her and hope she continues to volunteer for us and continues to find her time at Chadwell House both rewarding and worthwhile."
Volunteering with Sanctuary Care
No matter your age, if you are interested in finding out more about becoming a volunteer with Sanctuary Care visit our Do-it page or call senior work programmes officer Yunus Giwa on 07484 547035.