Briarscroft Residential Care Home in Birmingham
27 Packington Avenue, Shard End, Birmingham
,
West Midlands
,
B34 7PB
Here at Briarscroft, we are proud to say we are more than just a care home, we are a home that has been shaped by our residents and the things they love.
Many of our residents, who receive residential care and dementia care, strive to be as independent as they possibly can, and we are here to support them. Before moving into a care home, they would pop to the shops near their homes, many of which were in Birmingham. And they can still do that today as we have our very own old-fashioned shop within the home. Decorated with a vintage theme, you can browse through newspapers from days gone by, as well as choose a sweet treat from a shelf full of traditional sweet jars.
 Safe admissions
Safe admissions into our care homes includes the option for new residents to self-isolate in their own home before joining us.
 Virtual tours
Our virtual tours enable you to find out more about life in our care home and ask any questions you may have to a senior member of our team.
Residents pick up all their 'bits and bobs' from their very own store. From toiletries and birthday cards to arts and crafts, our residents decide what we stock on the shelves. And what makes our shop more unique and special than others in Birmingham, is the fact that two of our residents run it.
For our residents who love the big screen, they don't have to travel far to enjoy their favourite film. We have our very own cinema room. Kitted out with traditional style cinema seating and a popcorn machine, they love to watch the classics in style. Whether Breakfast at Tiffany's or Singin' in the Rain, the classic titles often prove to be wonderful for reminiscence, especially for those living with dementia.
We have recently created a tranquil Namaste room. As soon as you open the door, the calmness takes over and your senses are instantly rejuvenated. With minimal natural light, the room has multi-sensory lighting, a nail bar for hand massages and aromatic oils and candles. Relaxing sounds like birdsong and music personal to each individual resident fill the room, creating the perfect atmosphere. This further supports our team to engage with our residents living with dementia through their senses.
Finally, on top of the usual comforts you'd expect in a care home, we have our very own bistro. Complete with coffee shop tables and comfortable seating, this welcoming space is wonderful for our residents' loved ones as it's truly 'theirs'. With hot drinks, biscuits and delicious home-baked cakes readily available, it is an ideal setting to relax and chat when they visit. This room is also used to hold special family celebrations, from anniversaries to milestone birthdays.
A long-serving team
If you were to ask our residents' loved ones what makes our home truly stand out, they would say our caring team. Not only does our home manager Selina Leone have over 15 years' experience in the care sector, but she also has a long-serving dedicated and committed team. Many of her care staff have worked at the home since it opened, providing the familiar faces that residents and their loved ones like to see.

Pre-bookable respite care
Briarscroft Residential Care Home also provides short-term residential and dementia respite care from the comfort of our beautiful home in Birmingham. Pre-bookable respite care gives carers the opportunity to book a break away on their own, safe in the knowledge that their loved one is receiving the very best care.
Call our home today on 0121 748 0040 or complete our Briarscroft enquiry form for more information on how to book.
Stories from the home
Taking 'you' time
Our calming lounges are the perfect place to relax.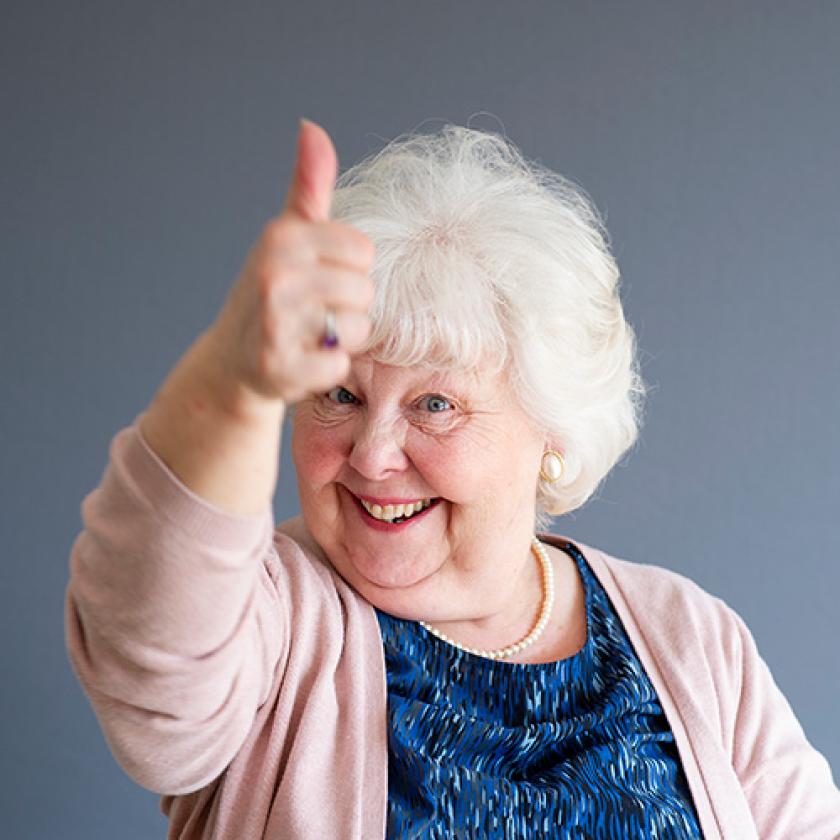 A son's review
"Extremely happy with the staff and the home as a whole. The team are excellent, I highly recommend".
Son of Resident.
Facilities at this home
Accommodation
Cinema room
Ensuite
Hairdressing salon
Namaste room
Shop
Wheelchair accessible garden
Wifi
Activities
Children visits
Knit and natter
Light exercise
Movies
Nail care
Care and support
Chiropody
Hairdressing
Home cooked meals
Physiotherapy
Podiatry
Respite Care
Ready to know more?
Get help every step of the way, contact us below to get information or advice.