Juniper House Residential Care Home in Worcester
2 Oak View Way, Worcester (behind St John's Medical Centre off Bromyard Road)
,
Worcestershire
,
WR2 5FJ
---
Care home admissions during the Covid-19 pandemic
Safe admissions into our care homes includes the option for new residents to self-isolate in the comfort of their own home for 11 days, before joining us in the care home where they will be tested for Covid-19 and supported to self-isolate for 3 more days until the result of the test is known.
---
Opened in 2015, Worcester's Juniper House is an impressive care home with splendid facilities and a fantastic team.
Located on the Sanctuary Grove site, there is a central hub adjoining the home, which has a bistro-style restaurant. Residents can dine here if they prefer a change of scenery or take loved ones when they visit. There is also a hairdressing salon where they can enjoy appointments with a mobile hairdresser.
The care home is very attractive and is beautifully decorated and furnished. The bedrooms are all spacious with en-suite wet rooms, enhancing the independence of residents even further. The Willow and Maple suites are for the home's residents who receive residential care, while residents living with dementia are in the Beech and Chestnut suites.  
Stimulating and engaging activities  
The garden room is a light and airy space overlooking the grounds, where residents love to take part in all sorts of activities, from tai chi sessions to musical performances from the Worcestershire Association of Carers choir. Other visitors who always light up the room are toddlers from the local nursery. They visit regularly to treat residents to sneak previews of plays and musical performances and to play games. The garden room also boasts a vintage sweet cart, which is an added bonus for the children when they visit!
Juniper House also has a minibus so residents can enjoy trips to places across Worcestershire and beyond, including Webb's garden centre in Wychbold and Malvern Theatre. They also enjoy spending time with residents at Sanctuary Care's Heathlands Residential Care Home in Pershore.
Some fantastic celebrations and community events also take place within the care home. These have included a 101 Dalmatians themed party for the home's most mature resident Nora Harris, who is 104. For her 100th birthday, the team organised a VIP trip to the local safari park, where she was a zookeeper for the day. Nora loved feeding meat on a stick to tigers through a fence and even had a snake wrapped around her neck!
The residents enjoy being part of the care home's gardening club and have loved growing their own sunflowers from seed this summer and are very excited about Juniper's latest addition – our very own potting shed.
As well as providing residential care and dementia care, Juniper House has a special room for bariatric care. The room is extremely spacious and has everything needed to support the team to provide such a specialist type of care.
Supporting local people in our community
Juniper House is one of Sanctuary Care's Worcestershire homes that form part of The Gateway, offering a range of services to older people in the St John's and the wider Worcester community. The care home's team supports local people to live well in later life by providing a range of services. People can book to come in for personal care and support such as having a bath, a home-cooked meal or even to take part in recreational sessions and activities.
The team also provides pre-bookable respite care breaks. If you are caring for a loved one at home, this can give you the opportunity to recharge your batteries or take a break of your own, knowing we are taking good care of your loved one.

Pre-bookable respite care at Juniper House
Juniper House Residential Care Home also provides short-term residential and dementia respite care from the comfort of our beautiful home. Pre-bookable respite care gives carers the opportunity to book a break away on their own, safe in the knowledge that their loved one is receiving the very best care.
Call our home today on 01905 676 950 or complete our online form for more information on how to book.
Stories from the home
Jean tells us about her wonderful time as a respite resident at Juniper House following a short stay in hospital.
Virtual voyage
Last summer our residents were treated to a virtual voyage around the world without having to leave Juniper House.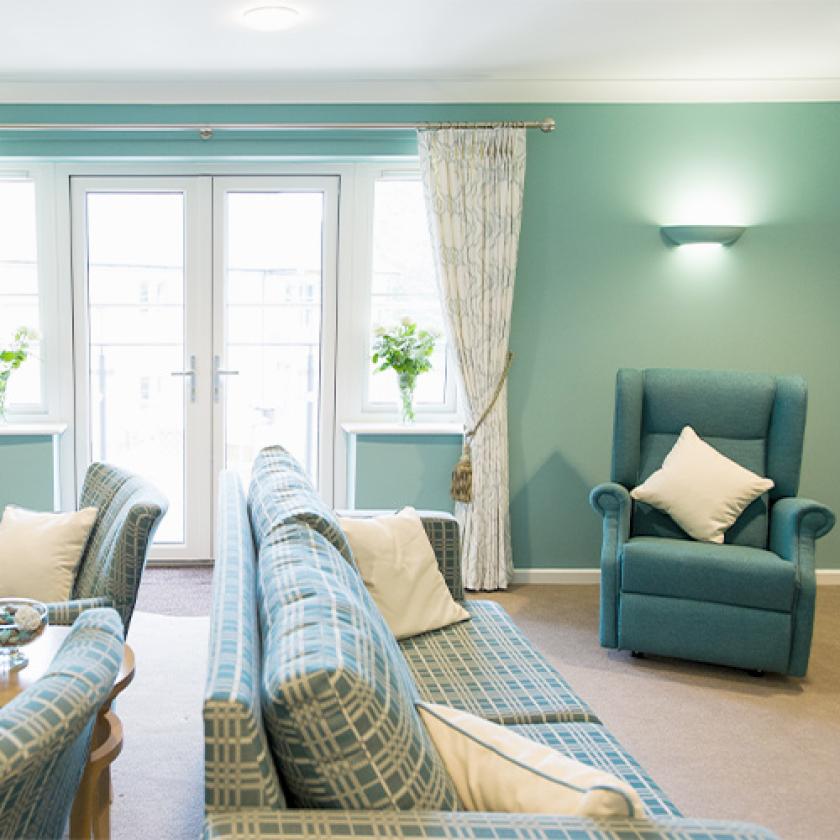 A contemporary feel
Bright spaces give our home an airy and modern feel. We enjoy our outside space as often as we can.
Tranquillity in your own space
Bedrooms are modern, clean and bright, ready for you to make it your own welcoming space.
Numerous lounges
A social gathering or one of Juniper's daytime activities, our lounges transform themselves from quiet space to entertainment zone.
Tranquil surroundings
Based on the outskirts of St John's we're close to the city of Worcester but enjoy a rural and peaceful aspect with lots of space.
Facilities at this home
Accommodation
Ensuite
Garden room
Hairdressing salon
Lounges
Quiet room
Wheelchair accessible garden
Wifi
Activities
Arts and crafts
Day trips
Knit and natter
Light exercise
Live entertainment
Minibus
Movies
Quizzes
Care and support
Chiropody
Hairdressing
Home cooked meals
Physiotherapy
Podiatry
Respite Care
Ready to know more?
Get help every step of the way, contact us below to get information or advice.