Celebrating kindness in Basingstoke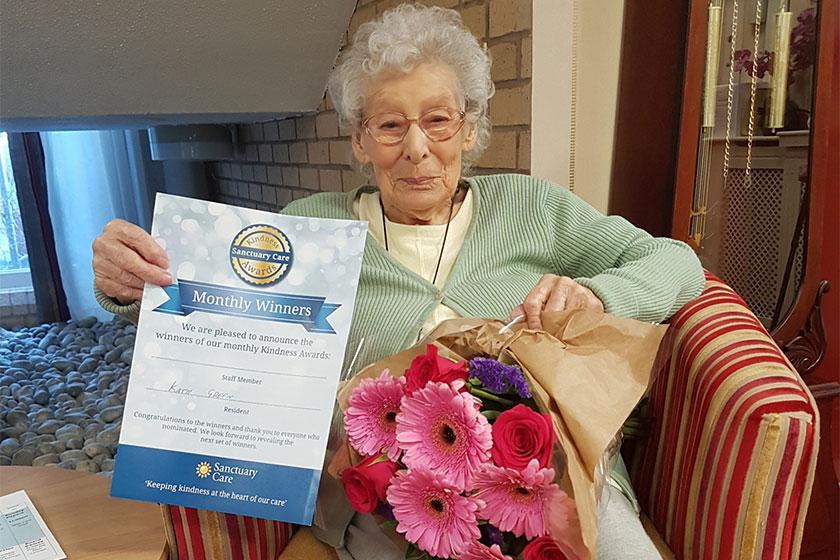 A resident and care assistant from a Sanctuary Care home in Basingstoke have been honoured with special awards for their on-going kindness and generosity.
The team and residents at Basingfield Court Residential Care Home came together this week to celebrate much loved resident, Kathleen Green and her charitable contribution to the home.
100-year-old Kath, who is originally from Farnham, received one of Sanctuary Care's monthly Kindness Awards following a surprise nomination from the home's activities leader Tracy Mercer.
Keeping kindness at the heart of our care
Sanctuary Care's vision of 'keeping kindness at the heart of our care' underpins the ethos of the entire organisation with acts of kindness from both staff and residents being celebrated monthly.
Kath collected all kinds of items, including handmade knit wear and even spare gifts from her recent milestone 100th birthday to sell at the home's Christmas fayre in December, raising over £500 for the home and her fellow residents.
The centenarian, who has now begun collecting for the home's summer fete said: "I was very touched to receive a Kindness Award and loved the flowers – I can't wait to show my family.
"I have always organised jumble sales and local fetes, I like to think I have a good eye for what will sell!"
'Acts of kindness should not go unnoticed'
Care Assistant Theresa Conner, who has worked at the Basingstoke home for five years was also honoured for going above and beyond, putting in many extra hours creating a number of wonderful crafts and crackers to sell at the fayre.
Tracy Mercer, activities leader added: "Nominating Kath and Theresa was such an easy choice for me, they are both selfless in their actions – genuinely helping for the good of Basingfield Court.
"The home will really benefit from their hard work and commitment. Acts of kindness like that should not go unnoticed."