An everlasting love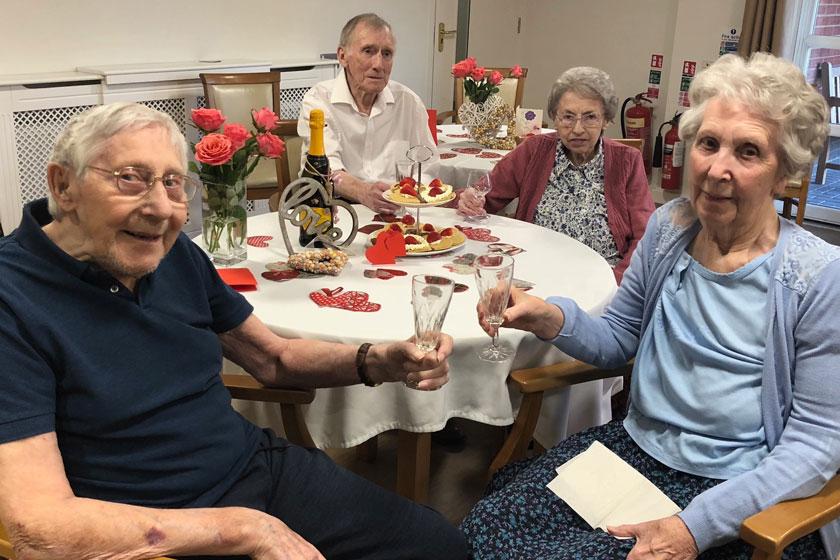 There will be love in the air when two couples at a Sanctuary Care home in Bromsgrove celebrate Valentine's Day.
The team at Breme Residential Care Home on Providence Road have organised a magical Valentine's Day, with entertainment and a candle lit dinner for devoted Barbara and Will Thomas and Ron and Doreen Higgins.
75-year-long love story
Barbara and Will's 75-year-long love story began when they were both just 14. They met at school and were childhood sweethearts. The dedicated couple courted for many years and married in 1952.
Will's uncle Fred was a jeweller in the Jewellery Quarter, Birmingham, sourcing him a beautiful £26 diamond ring. Unfortunately, this sold before Will had the chance to visit the store so his uncle found him another even more beautiful - but also even more expensive ring at £36, meaning he had to save a little longer.
Will said: "It was worth every penny to see how happy Barbara was."
In June, they will be celebrating their 66th wedding anniversary. Speaking of their relationship Barbara said: "The things I love most about Will are his kindness and patience."
"It's a love like a good wine"
Will added: "I love Barbara even more than when we were 14-years-old. It's a love like a good wine – only gets better with time."
The couple who have one daughter, Julie, share a love of old movies like the Sound of Music and holidaying both abroad and in this country.
A chance encounter
Another couple looking forward to Valentine's Day are Ron and Doreen Higgins.
They met by chance on a blind date when Doreen was 16, and Ron 17. Ron and his friend had been set up with two blind dates but Ron's date pulled out at the last minute so Doreen was asked by her friend to step in – it was love at first sight.
Speaking of their meet cute, Ron said: "I fell in love with Doreen straight away because she had, and still has the most beautiful eyes I've ever seen."
Ron and Doreen married in Rowley Church in February 1954. Ron added: "It was one of the coldest days of the year, but our love for each other kept us warm."
They went on to have two children, Kathryn and Keith.
When asked what they both loved most about each other, they answered in unison: "We are best friends."
The home's activities leader Helen Barron added: "Both Barbara and Will and Ron and Doreen are amazing couples and their love is just an inspiration to us all being married over 60 years.
"We are so happy and honoured to be celebrating this special day with them."