A flying visit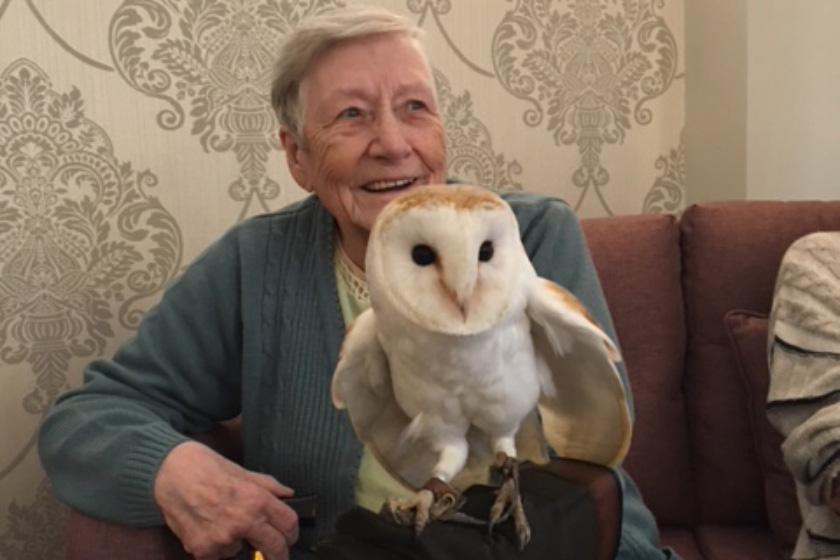 Residents at a Sanctuary Care home in Weston-super-Mare received a special flying visit from some new winged friends.
The team and residents at Beach Lawns Residential and Nursing Home on Beach Road got up close to a collection of beautiful birds when they were welcomed into the home for a special show.
A wonderful new experience
Speaking of their visitors, resident at the home, 88-year-old Faith Leech said: "It was a wonderful new experience – I have never held a bird before!"
Both the tawny owl and barn owl were fast favourites with many of the residents, who all got the chance to stoke their magnificent feathers and even take turns at holding them. The animal-assisted therapy is proven to promote wellbeing and increase social participation, particularly for people living with dementia.
Pat Derham who is 86-years-old (pictured) said: "It was a really nice thing to have in our home."
Fellow resident, Keith Parker, also 86 agreed: "It was lovely to see them up close and amazing to actually hold them."
Activities leader at Beach Lawns, Richard Roberts concluded: "Seeing the residents' faces light up when they were interacting and even holding the animals was just wonderful.
"They are such regal and gentle birds – it was a wonderful experience for all."