Happy 100th Birthday Rose!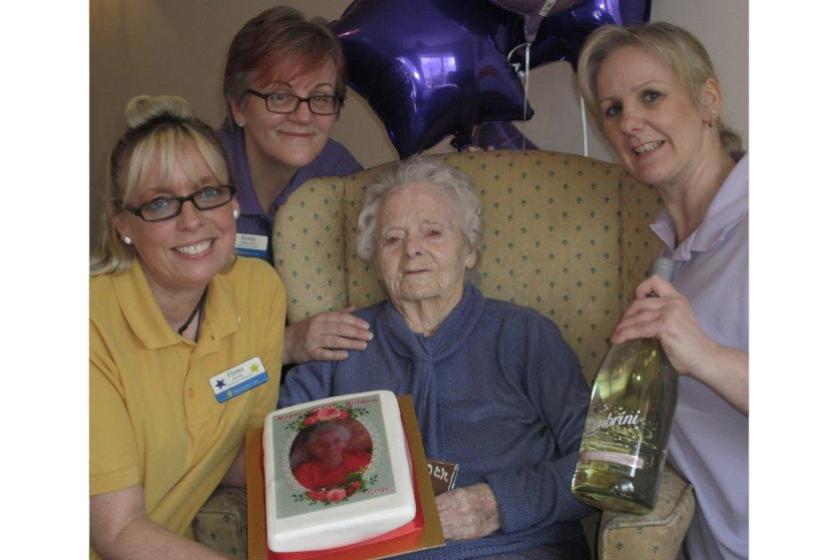 Surrounded by her family and fellow residents, Rose Simmons celebrated her 100th birthday on Sunday (25 February) at Brambles Residential Care Home on Birchfield Road.
When asked what the birthday girl's secret was to reaching 100-years-old, Rose said: "Having a loving family and making the most of what you have."
Born on Bleachfield Street in Alcester to parents Percy and Mable Biddle, Rose didn't have much of a quiet moment growing up with her 10 siblings. Her mother was a housewife, taking care of Rose and her brothers and sisters and her father Percy was a painter and decorator.
After leaving school, Rose began her working life as a barmaid and waitress at the Swan Hotel in Alcester. Her career took quite a turn with the start of World War Two, when she took up a post at Herbert Terry and Sons in Redditch, making springs for spitfires.
Following the war, Rose met husband-to-be Reg Simmons whilst working at The Northwick Hotel in Evesham, when Reg was employed by the Midlands Electricity Board. The devoted couple married in December 1948 and lived in Evesham for all of their married lives together.
Rose and Reg were blessed with two children, John and Susan who both still live in Evesham.
Reg sadly passed away in 1980, but Rose will always remember the many adventures they had saying: "I always enjoyed travelling around the British Isles with Reg, and then with our children and grandchildren after he passed away."
The couple's family of four has now blossomed to four generations, including five grandchildren and five great-grandchildren, with 14 of her family visiting the home on her birthday for a tea party.
Activities leader Fiona Morsy said: "Rose is a lovely lady, she is always smiling and we are all loved celebrating this great milestone with her."