Jiggin' about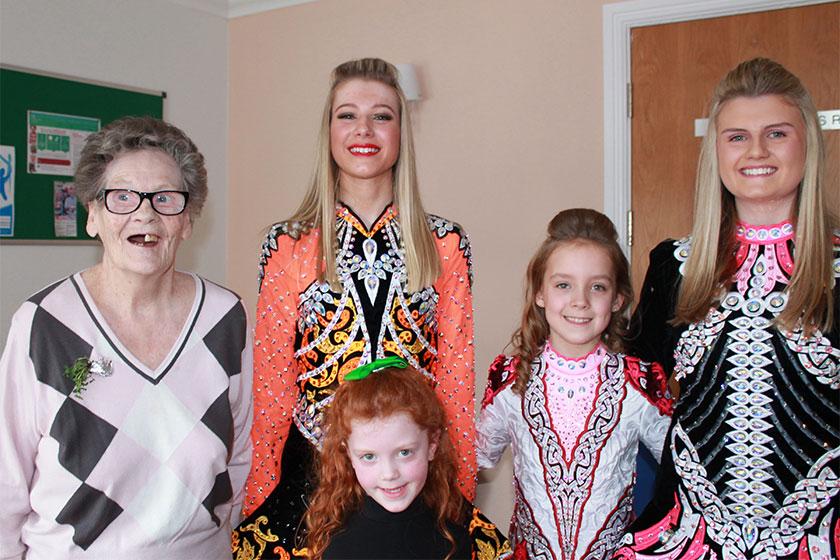 There was plenty of toe-tapping fun as a Sanctuary Care home in Bilston celebrated Lá Fheile Pádraig with the help of young dancers.
The team and residents at Lime Tree Court Residential Care Home on Ettingshall Road welcomed champion Irish dancers from the Marie Connell School of Irish Dance for their St Patrick's Day celebrations (17 March).
With the home adorned in sparkling shamrocks, the residents clapped along as they enjoyed traditional dances; St Patrick's Day, a hornpipe and a reel.
Speaking of their performance, 14-year-old Hannah Hunt said: "It was really lovely to dance for the residents at Lime Tree, St Patrick's Day is always a busy time of the year for us and it's great to get some extra practice in before the upcoming World Championships."
Wearing her shamrock brooch 83-year-old resident Mary Carty said: "I am originally from County Clare but have lived here now for over 60 years - I enjoyed the dancing very much."
Activities leader at the home, Tracy Skinner said: "So many of our residents have fond memories of celebrating St Patrick's Day, so it's something we like to try and do every year – especially for our Irish residents like Mary!"
"The dancers were absolutely fantastic and the residents were so happy talking about it and saying how beautiful they all looked – they really made their day special."