By royal invitation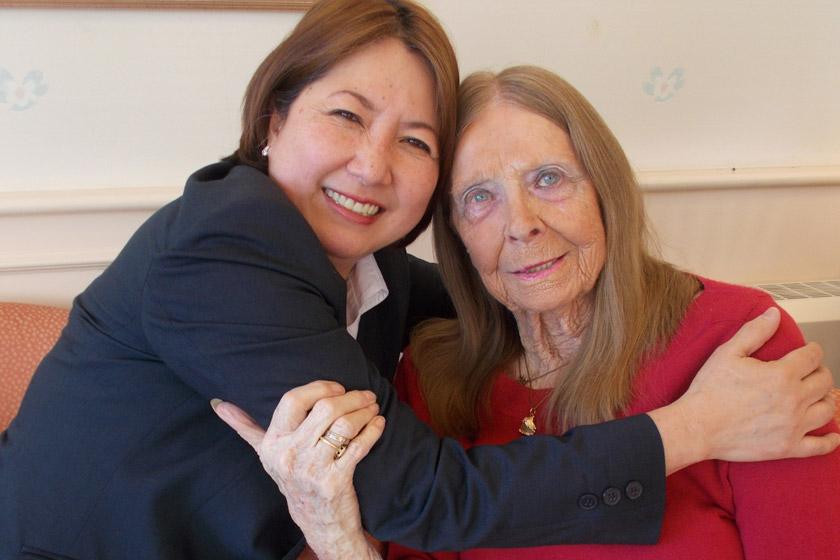 A Sanctuary Care home in Watlington has been a scene of anticipation this week as a much-loved team member prepares for a very special royal visit.
Following a surprise nomination by her employer Sanctuary Care, deputy manager at Watlington and District Nursing Home on Hill Road, Josie Barcial has been invited to Buckingham Palace next week for a reception hosted by The Prince of Wales on behalf of Her Majesty The Queen, to celebrate nursing in the UK.
Wonderful news
Glowing about her royal invitation Josie said: "I am very proud and so honoured; I can't believe I have been selected – it is such wonderful news.
Josie has been selected for her significant contribution to nursing, alongside fellow nurses from all over the country and throughout the profession; from hospitals and general practice to community and nursing homes.
One resident in particular, Jean Hoare who has lived at Watlington for just under a year, has been helping Josie to prepare for the special visit, giving her top tips on palace etiquette including how to sit and 'hold herself', herself having worked in  the Civil Service, and her late husband formerly being in the RAF.
Home manager Julie Cooper said: "We are all so proud of Josie for this wonderful achievement, this honour is a true testament to the dedication, care and compassion shown to everyone that she cares for – Jean is so excited for her and is eager to hear all about her visit to the palace on her return."
Born and bred in the Philippines
Josie, who is originally from the Philippines, joined Sanctuary Care in 2003, recruited as an overseas nurse.
Speaking of her first interview with Sanctuary Care, Josie recalled: "I remember, one of the questions asked was 'Why would you like to come to work in the UK?' I answered I would like to see Buckingham Palace; it had always been a place of fantasy for me, along with the idea of kings and queens.
"It's like a dream come true"
"When I arrived in the UK, I did go to the palace but could only look through the gates. Now I have been invited to actually go inside – it's like a dream come true."
Moving to the United Kingdom after working as a nurse both in the Philippines and Los Angeles, USA, Josie began work at Watlington and District Nursing Home in 2004 and has been there ever since.
Beginning her journey as a nurse, she is now deputy manager at the home, where her daughter, who also studied nursing in the Philippines, now works too.
Speaking of her role at the home, Josie added: "I enjoy my role at Watlington, I like that I am a support, I can support our home manager, our team and still get to care for and support all of our residents.
"When I first got the letter from the palace, I thought someone was taking the mickey out of me knowing my dream to go to the palace – I can definitely tick it off of my bucket list."