Angie wins special county care award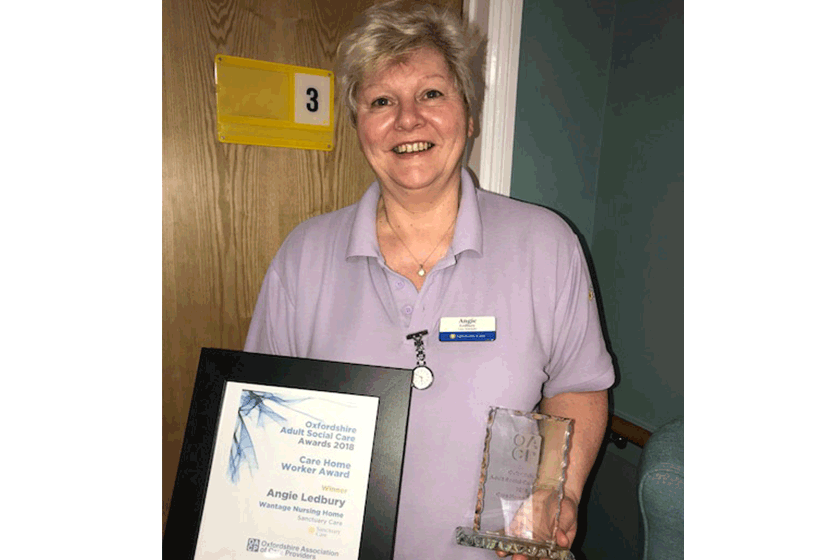 A care assistant at a Sanctuary Care home in Wantage has proudly received an award in recognition of the exceptional way in which she cares for her residents.
Angie Ledbury has just picked up the Care Home Worker Award in the Oxfordshire Care Awards 2018, organised by the Oxfordshire Association of Care Providers (OACP).
Angie, who has worked at Wantage Nursing Home for three years, was nominated by her employer Sanctuary Care for being an outstanding carer who treats her residents with the utmost kindness, dignity and respect.
Home manager Paulo Leitao said in the nomination: "Angie considers each and every resident to be part of her extended family and is a wonderful carer."
Following the awards ceremony, which took place at the end of March at the Kassam Stadium, Oxford, Angie said: "It was nerve-racking and I felt so happy I cried. I never thought I would win! This is for all of us at the nursing home."
Comments in Angie's nomination from residents and loved ones highlight just why she was nominated. One of them reads: "My dad thinks the absolute world of her. She brings him alive."
Eddy McDowall, CEO, Oxfordshire Association of Care Providers said: "It's important that social care has the opportunity to celebrate the fantastic work it does, day in and day out. The awards recognise how people and services make a difference every day. It truly was inspirational - there are some amazing people, companies and organisations working in Adult Social Care in Oxfordshire!"
Sheila O'Connor, Sanctuary Care's Director of Operations said: "We are so enormously proud of Angie. She is a shining example of someone who has kindness at the heart of their care. It is so fitting that her win has come during Sanctuary Care's 20th anniversary of delivering care to our residents – a double celebration indeed."