Centenarian celebrations in Stourport-on-Severn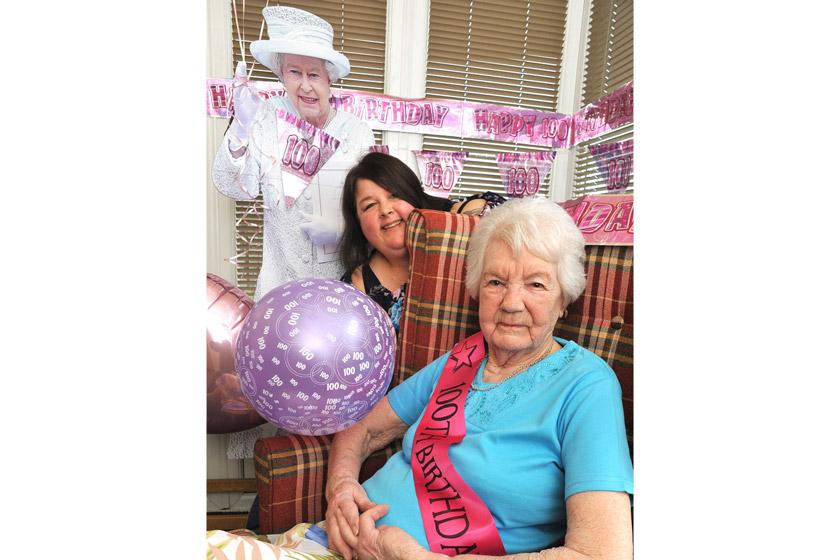 Surrounded by family and new friends, Mary Jane Bridge, better known as Jenny, celebrated her milestone 100th birthday in style at Sanctuary Care's Ravenhurst Residential Care Home.
When asked how she felt to reach such a great milestone, Jenny said: "I don't feel 100, I still feel like I'm in my 80s!
Speaking about what she has enjoyed the most about her life so far she added: "Having my family and seeing them have children of their own."
Born in Lancashire near Chorley, Jenny grew up as the middle child between younger brother Ronald and older sister Phyllis. Jenny's mother Elizabeth stayed at home to look after them whilst her father Henry Jones worked as a miner.
When Jenny was 20-years-old and working at the local cotton mill, she met and married first husband Edward. Having three children, Sheila, Glenys and Jennifer, the young family moved to live with Edward's parents on a rural poultry farm.
In later life, Jenny found a second love – her childhood sweetheart, Eric Bridge. Reuniting after many years Jenny said: "It was fate that we met again."
The couple went onto marry and brought up their child David together in Derbyshire before Jenny moved to Worcestershire after Eric's death, to be near to her two daughters.
Spilling her secret to longevity, Jenny said: "I've led a normal active life, and taken each day as it comes!"
Speaking of her loving mother, daughter Jennifer said: "Mum has always been very sociable and enjoys a good laugh! She has always moved with the times.
"Her grandchildren just love her and have so much fun with her."
Jenny's family has now blossomed to four generations, including 13 grandchildren and eight great-grandchildren.
Activities leader at the home Carla Siwicki said: "We are so proud to be able to celebrate this milestone with Jenny and her family at Ravenhurst – what an amazing achievement."

Photo courtesy of the Kidderminster Shuttle