A lot of llama love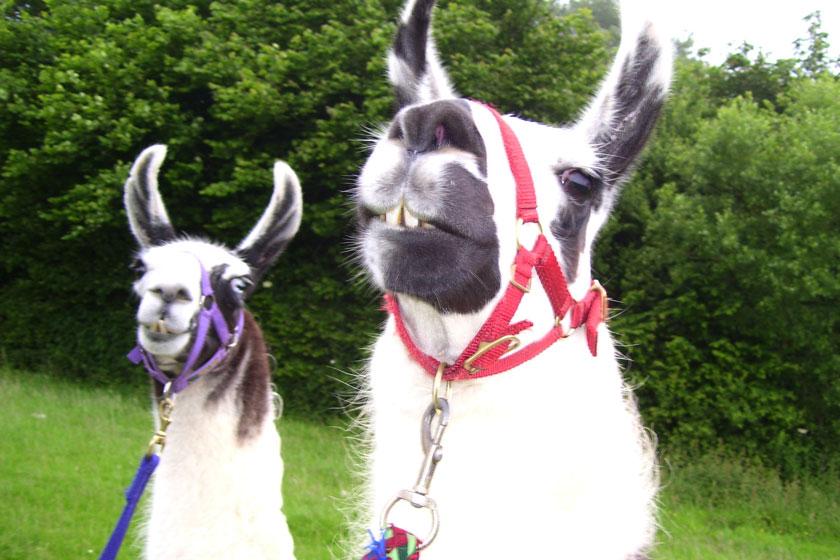 Two four-legged friends trotted their way through a Sanctuary Care home in Exmouth this week for a spot of animal therapy.
The team and residents at Fernihurst Nursing Home on Douglas Avenue enjoyed a special visit from a couple of laid-back llamas. From Peak Hill, Sidmouth, Ollie who is 13 and Golly, 15, are renowned for their gentle nature and love of meeting new people.
Maggie Jee, owner and founder of Peak Hill Llamas said: "There is something very therapeutic about being in the presence of a llama and we find that when we visit nursing homes, there is usually quite a buzz. It's a great experience for the residents and their families to enjoy.
"Golly and Ollie both have a really laid-back gentle nature which means they were perfect for our visit to Fernihurst. Golly loves being the centre of attention, and will happily go down on his knees beside people so that they can easily stroke and interact with him."
The Sanctuary Care home's manager Nicky Feasby added: "Our residents love animal visits, especially from our new friends Ollie and Golly! Many of our residents had never met a llama before so it is wonderful to be able to provide this new experience with the help of Peak Hill Llamas and see their faces light up."
Peak Hill Llamas predominantly offers a selection of light-hearted llama experiences and guided walks but also provides animal therapy for older people in care homes, particularly those living with dementia.