All the colours of the rainbow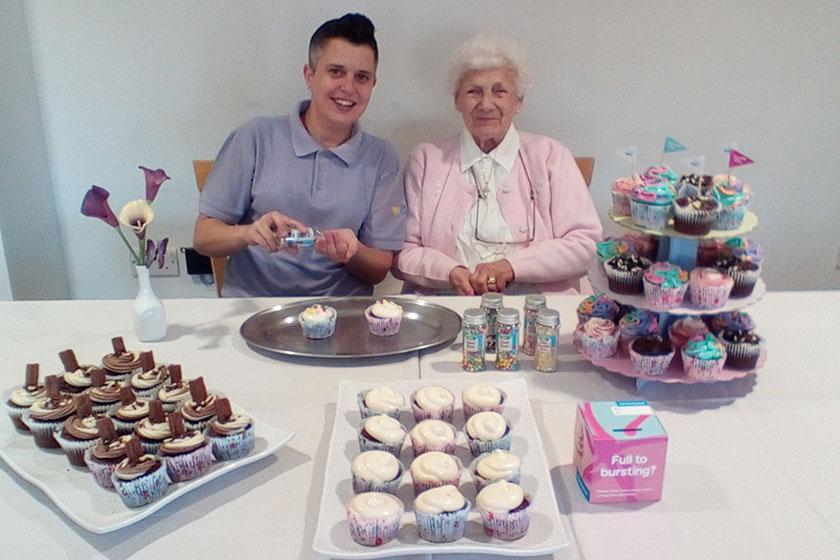 Sweet treats were baked to perfection, as a Sanctuary Care home in Hersden welcomed their local community for a special dementia charity fundraiser.
There were scrumptious cupcakes, chitchat and bunting a plenty as the team and residents at Meadow View Residential Care Home threw open the doors for a special tea party in support of Alzheimer's Society Cupcake Day (Thursday 14 June).
Raising £32, rainbow cupcakes and much more made specially by the home's chef Kerry Doughty, were enjoyed in exchange for a donation to the well-known dementia charity.
100 cupcakes
Kerry said: "I was happy to make the cakes for Cupcake Day – the money is going towards such a great cause."
Activities leader, Katherine Hammond added: "Everyone really enjoyed decorating and of course eating the cupcakes which our chef spent her day off baking. There were over 100 cupcakes and, with seven flavours to choose from, there was something yummy for everyone!"
The Sanctuary Care home's manager Matt Wood concluded: "It was a pleasure to welcome new faces from our local community into our home for this special occasion.
"Providing residential and residential dementia care, this is a cause close to all of our hearts here at Meadow View – and our residents would never turn down some scrumptious tea and cake!"