Bridgwater born and bred centenarian celebrates 103rd birthday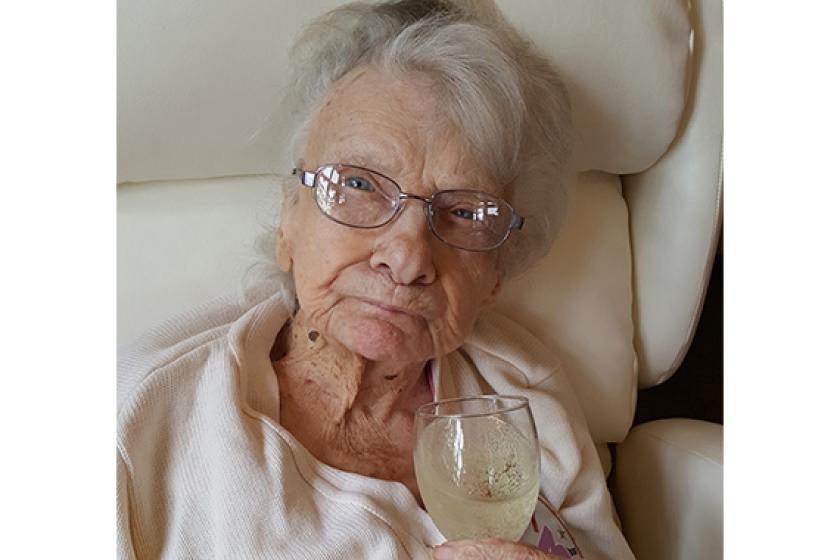 There were celebrations all round as a Sanctuary Care home resident from Bridgwater marked her 103rd milestone birthday, surrounded by family and friends.
Edna Gertrude May Thomas, whose secret to longevity includes 'bread and cheese at bedtime and the odd glass of cider', celebrated her 103rd birthday on Wednesday 30 May with a special tea party at The Rosary Nursing Home, where she has lived for three years.
Born and bred in Bridgwater, Edna grew up with her older sister Margaret and parents Ernest, who worked at the Wilts United Dairies and Lilly Hembery, who was a housewife.
It all began with fish and chips
Meeting at the local fish and chip shop, it was love at first sight for Edna and lorry driver Fredrick Thomas, who went on to marry in 1935 when Edna was 20-years-old.
The devoted couple had four children, Dennis 82, Pamela 80, Rita – who sadly passed away at 59 and Lyn, who died at just four-months-old due to pneumonia.
Local lady Edna enjoyed a string of different careers throughout her working years, starting as a nanny, then at working at Woolworths before moving on to work at the Van Heusen shirt and collar factory. In 1939, when the second World War broke out, Edna dedicated her time to her children, becoming a housewife while Fredrick was away in the army.
Following the war and until her retirement Edna spent her days working at a laundry shop on Taunton Road.
In later life, Edna enjoyed holidaying with family and friends and visited Blackpool every year for the illuminations until she was 93-years-old. 
A lovely, kind-hearted lady
Edna and Fredrick's family of six has now blossomed into five generations with five grandchildren – Lorraine, Wayne, Martin, Paula and Michael, seven great-grandchildren and five great-great-grandchildren.  Many of Edna's family still live locally in Bridgwater.
Edna's son Dennis said: "She is a really good mother, never arguing or rowing – she always said 'what was the point? There are only two outcomes, makeup or break up'."
Speaking of the birthday girl, the Sanctuary Care home's activities assistant Tracy Chater said: "It's so wonderful to celebrate another milestone birthday with Edna and her loved ones – she is such a lovely and kind-hearted lady."