Celebrating 70 years of wedded bliss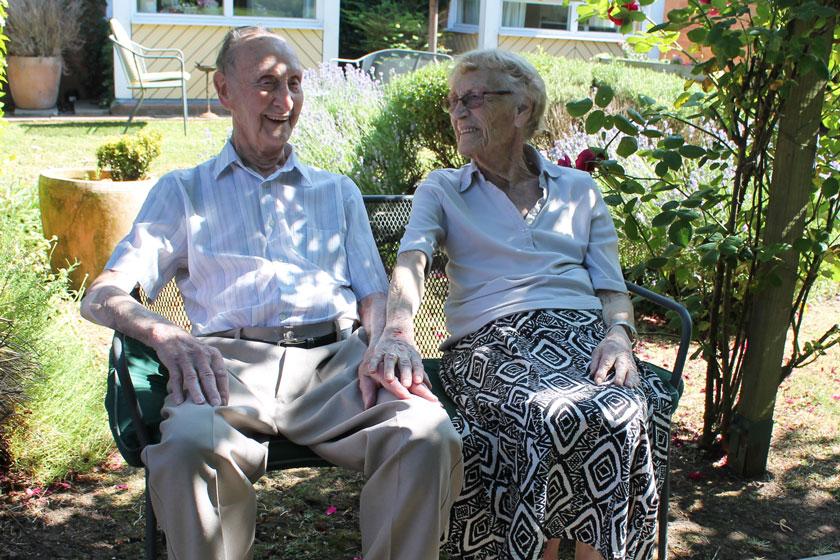 There were celebrations all round this week, as a devoted couple celebrated their platinum wedding anniversary at a Sanctuary Care home in Droitwich.
Harry and Margaret Tanfield, celebrated 70 years of marriage on Wednesday (27 June) surrounded by family and close friends at Westmead Residential Care Home in Westmead Close, where they both now live.
It was love at first site for Margaret and husband-to-be Harry who met by chance, at a dance hall in Birmingham. Harry's cricket match fortunately finished early that evening, meaning he had time to stop by the dance hall – catching Margaret's eye.
Working in Timpsons, Margaret was just 21 when she met Moseley-based furniture sales man Harry.
The loving pair, married on 27 June 1948, honeymooning in the Isle of White. Harry recalled that the weather was fantastic, just like it is at the moment and the newly-weds were able to swim every day.
When first married, Harry and Margaret lived in Maypole, Birmingham and went on to have two children, Penny and Guy.
The Tanfield family of four has now blossomed to four generations with six grandchildren, and eight great-grandchildren ranging in age from six-months-old to 21, with two more on the way.
Harry who is now 102-years-old and Margaret, 93, lived independently with Harry being Margaret's full time carer until they recently moved into Westmead.
The Sanctuary Care home's manager Michelle Bisseker said: "Harry and Margaret are a true example of devotion and we are so honoured to have been able to celebrate this very special day with them and their family."