Happy 103rd Birthday to Winnie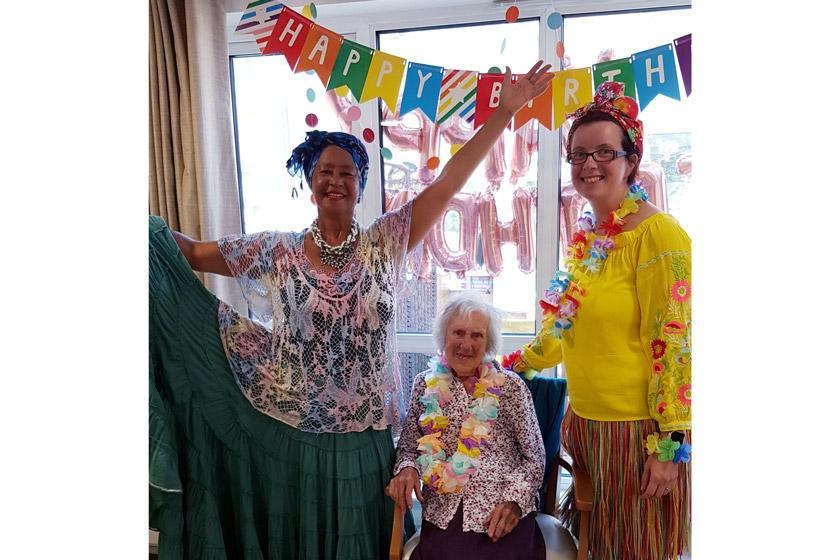 A Sanctuary Care resident in Ivybridge, who ice skated for the first time this year, has celebrated her 103rd birthday in style.
Winnie Davies marked her milestone birthday on Thursday 2nd August with a day-full of exotic celebrations at Ivydene Residential and Nursing Home.
An extra special day
Surrounded by loved ones and fellow residents, the great-great grandmother enjoyed a virtual voyage for her special day when the Staniforth Drive home hosted an all Caribbean celebration. There was exotic fruit tasting and Caribbean Dancers, followed by a high-tea birthday party.
Complete with birthday cake and garden games, all four family generations came out to join Winnie on her very special day.
The home's activities leader Lucy Cassidy said: "Winnie is a remarkable lady. Her smile can light up any room and it was a real pleasure to celebrate such a milestone birthday with her and her loved ones. Everyone was so proud to be a part of such an extra special day."
About Ivydene
Overlooking Two Moors Way, Ivydene is an attractive care home with a real home from home feel. The dedicated team delivers a range of care with kindness including residential care, nursing care and dementia care.
Along with celebrating birthdays in style, residents take part in a range of activities. Everything from knitting, animal therapy, bingo, wine tastings, music sessions and arts and crafts, as well as enjoying regular community visits.