Harrow residents get a taste of Romania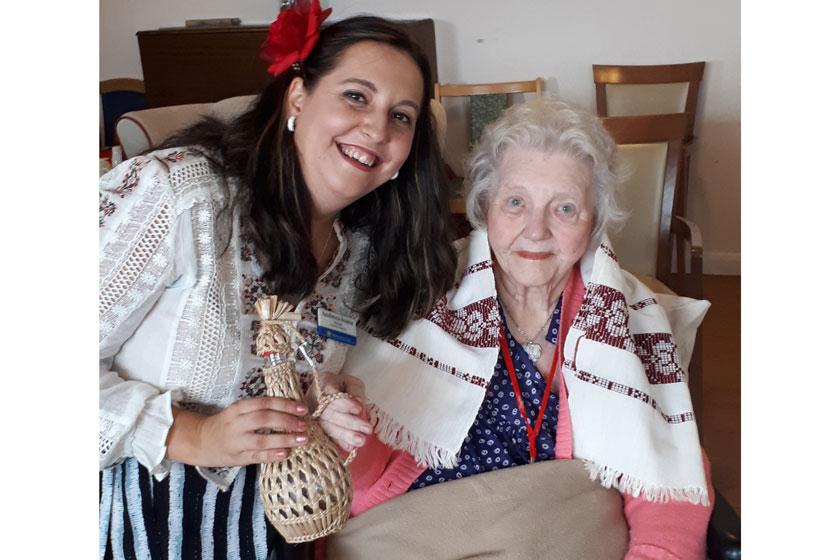 The residents and the team at a Sanctuary Care home in Harrow Weald enjoyed a gateway to Romania's fascinating cultures and traditions last week.
The team at Rowanweald Residential and Nursing Home in Weald Lane took residents on a sensory journey, exploring the flavours, cultures, traditions and entertainment, right in the heart of Harrow for St Mary's Day – a Christian celebration in Romania.
Folk dancing and local history
Enjoying traditions dating back to the ninetieth century, residents and the team firstly took part in traditional folk dancing, where the team dressed to impress in vintage Romanian dresses.
92-year-old resident Dorothy Gant said: "It was wonderful to dance the Romanian way."
Residents' taste buds also enjoyed a range of Romanian cuisine, with highlights including cozonac – marble cake, cornulete cu gem – pastries, salam de biscuiti – savoury salami biscuits and turta dulce - sweet ginger biscuits.
The themed festivities concluded with a whistle-stop history tour. Residents found out about the unique customs, including leaving gifts by the window for the fate fairies to the guarding of the garlic – keeping bad spirits away with the scent of garlic during the Night of the Spirits on 29 November. There were also Romanian artefacts for everyone to explore.
Resident Elsie Meek, 87, added: "It was all fascinating! I really enjoyed it, Romania sounds a lovely place."
Thought-provoking activity
The Sanctuary Care home's activities assistant Andreea Nimas – who originates from Romania, said: "The residents loved our Romanian day! They love to learn, taste and experience new things and did just that. I was so proud my home town brought such a happy day to the home. It also proved very thought-provoking as it brought back many memories of when they used to travel with loved ones."