Residents in Erith enjoy gardening therapy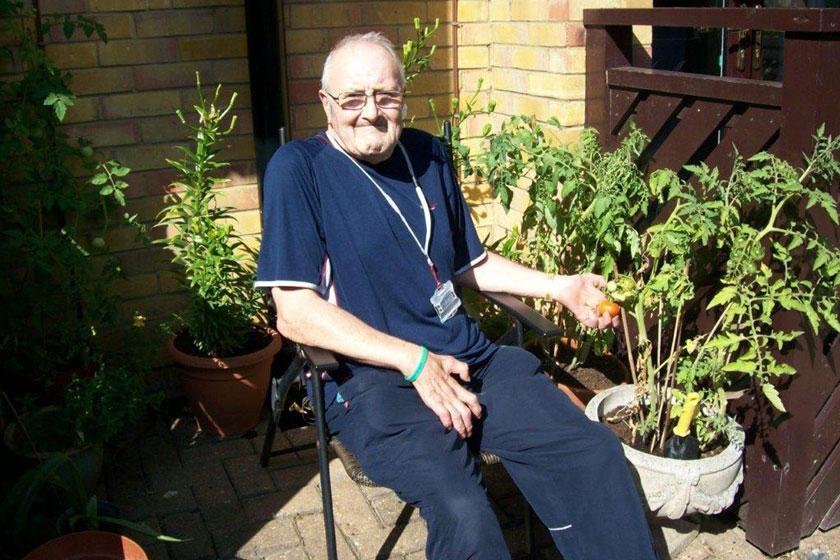 Residents at a Sanctuary Care home in Erith enjoyed the 'good life' as they celebrated National Allotment Week (13 August – 19 August).
Green-fingered residents at Shaftesbury Court Residential Care Home in Selkirk Drive have been busy showcasing their blooming good gardening skills by sowing seeds and growing vegetables, as part of the home's gardening therapy project.
Vegetables and shrubs
From ripe tomatoes to delicious radishes, residents – who have always had a love of gardening, have been busy coming together to create their very own gardening oasis.
The blossoming get-togethers have proved to be a real hit within the home and is also a valuable thought-provoking activity.
72-year-old Geoffrey Leer (pictured) explains: "I always used to garden with my dad, we would grow all sorts – including tomatoes, and I'm now doing the same here. It's wonderful, I really enjoy gardening and it's nice to think of the time I spent in the garden in my younger years."
"…a real sense of pride…"
The Sanctuary Care home's activities leader Sara Bird added: "Our gardening club is shaped by our residents – they decide what they grow and take leadership on maintaining the shrubs. It really is a fantastic little group we are running and residents are enjoying every minute. We've had a fantastic summer and there is a real sense of pride when residents get to enjoy their own produce."
Gardening therapy is increasingly recognised as a therapeutic activity for care home residents as it provides a great source of purpose, maintains an existing skillset, boosts confidence and energy levels and so much more.
Sara added: "It is so important to us that our residents continue to enjoy their hobbies and the gardening club is enabling those who could no longer garden alone, to be able to garden again – and that's what it's all about!"
About Shaftesbury Court
Situated in a residential area of Erith, Shaftesbury Court is designed with a true home from home feel including the usual comforts you'd expect – including welcoming lounges, a landscaped garden and en-suite bedrooms.
The dedicated care team provides a range of care and support including residential care. They are also committed to delivering care with kindness.
Along with their green fingers gardening club, the residents can enjoy a host of regular activities on offer, from arts and crafts to gentle exercise and bingo.