Youngsters produce artwork for new care home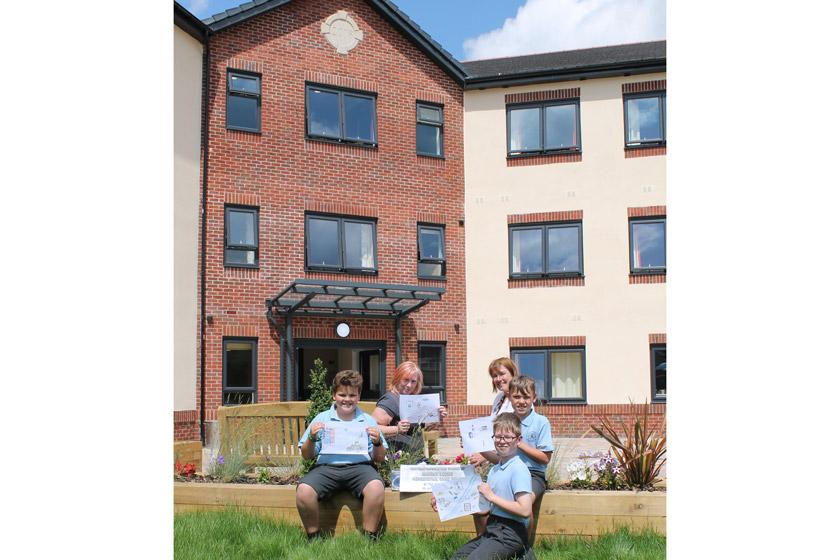 From cars built like rockets, to drones delivering our shopping – local school children created fantastically futuristic artwork to bring to a new care home in Nantwich recently.
Youngsters from St Anne's Catholic Primary School visited Barony Lodge Residential Care Home in Barony Road, armed with pieces of artwork they have created to bury in a time capsule on the site of the home, which will open soon.
Looking into the future
Sanctuary Care, which will run Barony Lodge, had tasked the children with making creations depicting what life could be like in 60 years' time. They will be buried in a time capsule in the home's landscaped gardens, to be opened in the year 2078.
One of the students, 10-year-old Matthew Povey, said: "I think technology in the future will be a lot faster and we will have cars that are more like rockets. When you get your shopping delivered, instead of being delivered in a van it will be delivered by a drone instead, so it doesn't get stuck in traffic."
Meanwhile 11-year-old Isaac Baxter said: "In the future I think we will have buildings that have gardens on their roofs – there's already a building like that in Italy that I've seen – I'd like to live in one, I think they look really nice. I also think we'll be able to have fruit that's a mixture of two tastes, so the blue banana in my artwork would be half banana and half blueberry."
Jan Obolewicz, also aged 11 added: "I think the world will just be full of fast food and no one will cook for themselves anymore."
"We're really looking forward to returning…"
Joining the students head teacher Hazel Brown said: "The children have had a great time taking part in the project and visiting the new care home. We're really looking forward to returning when the home is open so we can meet the residents."
Jackie Walker, who is the home's manager: "At Sanctuary Care we love to create intergenerational projects for our residents, so will be thrilled to welcome the children back to our home when we open.
"When Barony Lodge opens it will be extra special, because it will be Sanctuary Care's 20 year anniversary of delivering care to our residents - what a fantastic milestone to be marking."
About Barony Lodge
Barony Lodge will offer residential care and residential dementia care and will feature 60 spacious en-suite bedrooms, light and airy lounges, dining areas, an on-site café, hairdressing and beauty salon and a themed cinema room.
Care enquiries can be made by calling 01270 447395.