All the fun of the farm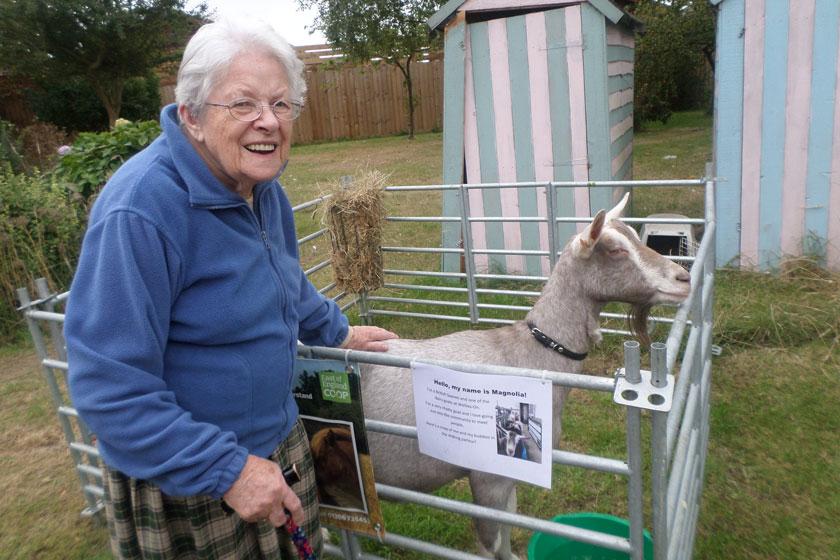 There was animal magic in Harwich this week when Sanctuary Care home residents received a visit from a collection of lovely farmyard animals.
The range of animals including pygmy goats, chickens and even a Shetland pony were the star attraction at Don Thomson House Residential Care Home on Low Road, when residents enjoyed a spot of animal therapy during World Alzheimer's Month (September).
Getting up close, residents and the team held and stroked the much-loved animals from Wellies On – who provide mobile farm experiences.
The animal-assisted therapy, which was supported by the East of England Co-op, is proven to promote wellbeing, increase social participation and particularly benefit those who live with dementia.
Speaking of the special visit, resident John Bantick said: "I used to be a farmer and love animals – I've really enjoyed today!"
The home's residents also had the opportunity following a demonstration, to milk Magnolia the dairy goat.
Resident Patricia Clarke said: "I had a lovely morning. I milked a goat, held a chicken and stroked a pony – it was good fun and I can't wait until next time!"
Fellow resident Ronnie Andrews agreed: "I loved every minute of it! I wanted to keep Snowy the chicken in my room and milking the goat was hard work."
Activities leader at the Sanctuary Care home, Ann-Marie Greenhalgh said: "The team from Wellies On were so fantastic with our residents. Animal therapy is such an important activity as it evokes many happy memories for those involved.
"Thank you to the East of England Co-op for making the visit a reality. It was big smiles all round from our residents – I even got to milk a goat myself!"
World Alzheimer's Month is the international campaign every September to raise awareness and challenge the stigma that surrounds dementia.
September 2018 marks the eighth World Alzheimer's Month since the launch of the campaign back in 2012.