Centenarian celebrations for Betty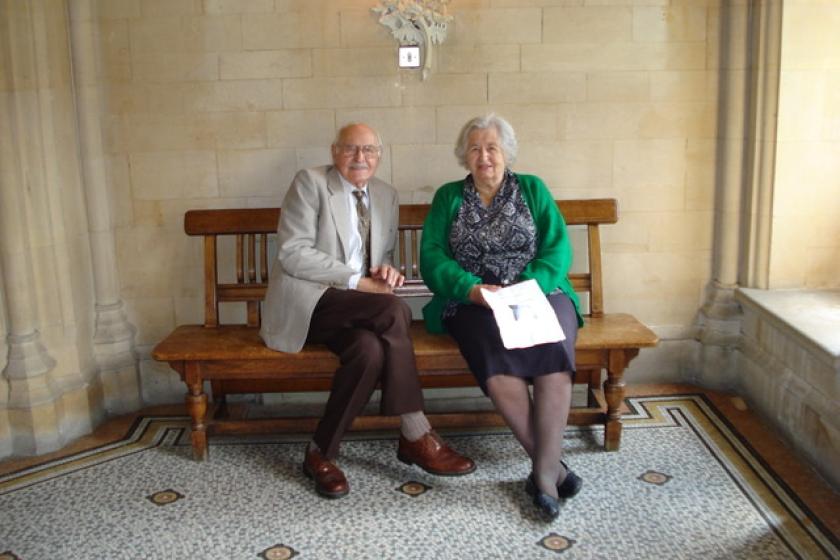 Surrounded by family and her closest friends, Elizabeth Annie Eaton will celebrate her 100th birthday on Monday (10 September) at Iffley Residential and Nursing Home on Anne Greenwood Close, Iffley.
Born in Thame, Elizabeth, better known as Betty grew up as the eldest of four siblings to father John Elton, who was a farmer and butcher and mother Elizabeth, a former schoolteacher turned housewife. Betty's youngest sister Olive is now 89-years-old and still lives in Thame.
Young love
Betty attended the Thame Girls' Grammar School, and whilst there was assiduously courted by love of her life and local boy Robert (Bob) Eaton who used to walk her home from school each day.
The devoted couple married in 1939, the year the Second World War broke out, when Betty was 21 at St Mary's Church in Thame, where Bob had been organist since 16-years-old. Beginning married life in Sandhills, just outside of Oxford, Betty worked as a primary school teacher until the pair had their first child John.
Following John, who is now 76-years-old, Betty and Bob had three further children, Elizabeth (74), Rachel (63) and Sarah (59).
The Eaton family moved to 3 Henley Avenue in Iffley in the late 1950s, which  was their family home for over 55 years.
When she wasn't taking care of her four children, Betty was a talented flower arranger, attending classes and even entering many competitions. Both Betty and Bob were also active members of first the Church of England and then the Unitarian Church at Manchester College (now Harris Manchester) in Oxford.
Bob and Betty's family of six has now blossomed to four generations, with seven grandchildren and seven great-grandchildren with one more on the way.
Her secret to longevity
Following Bob's passing in 2009, Betty remained in the family home until 2014 when she moved into Iffley Residential and Nursing Home where she celebrated her 100th birthday over two days with her family and fellow residents.
When asked her secret to longevity, Betty's family agreed: "Her positive attitude, her zest for life and her sheer determination!"
Speaking about the birthday girl, home manager Sue Stubberfield said: "Betty is such a sociable lady and loves company and affection. She often talks fondly about her life in Thame and of course, her late husband Bob.
"We are all delighted to be able to celebrate this milestone with Betty and her family here at Iffley."