Castlecroft's Tina shortlisted for national award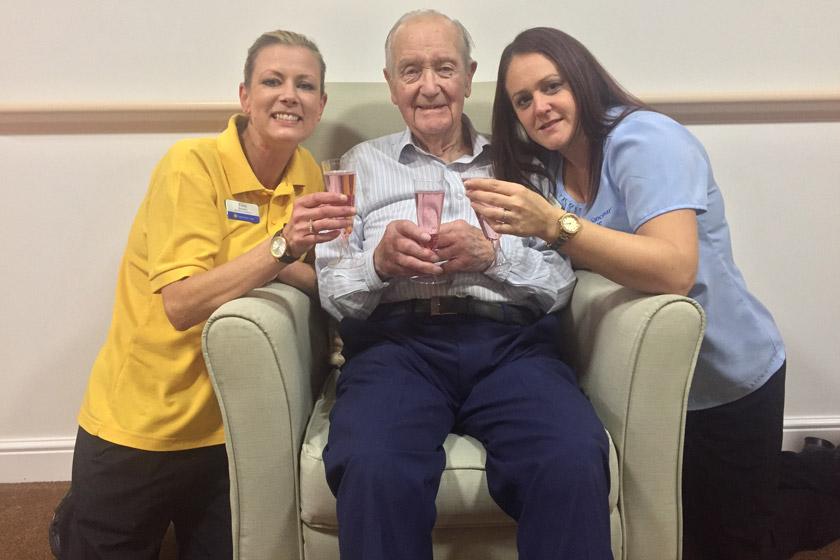 An inspirational activities leader at a Sanctuary Care home in Birmingham has been shortlisted as a finalist in the National Care Awards.
Tina Bennett, who has worked at Castlecroft Residential Care Home in Weoley Castle for four years, is celebrating after getting through to the finals of the prestigious national awards, in the Care Activities Co-ordinator 2018 category.
Tina will be meeting judges face-to-face next week, before attending a black-tie awards ceremony next month with her colleagues from Sanctuary Care, which will be hosted by actor James Nesbitt.
Speaking about the news Tina said: "I thought they were joking when I got the call and then realised this is real! I was so thrilled that everybody was so happy for me and also really nervous. This could be something that never happens again in my lifetime and I am so excited not just for myself, but also the home.
"I was so touched when I read the testimonials that people had written for my nomination and would like to thank the residents, their families, friends and of course the team here because Castlecroft is such a lovely home and it is all of those people that make it that way."
The award is for someone who has made an 'exceptional contribution to the quality of life, health and happiness of all the people they support through the activities they provide'.
Described in her nomination as someone who radiates joy, empowers her residents to remain integrated with the wider community outside of the home and someone who inspires her colleagues, Tina will attend the National Care Awards 2018 Gala Night in London on Friday 30 November.
The Sanctuary Care home's manager Leanne Carter, who nominated her said: "We are all so proud of Tina, she is completely dedicated to our residents and will do anything for them. She deserves this award and the whole home is rooting for her. We would be absolutely over the moon if she won."
Like Sanctuary Care, which is marking the close of its 20-year anniversary celebrations of delivering care to residents, The National Care Awards is also celebrating its 20th anniversary.
The National Care Awards are the longest established annual care awards, organised by leading publication Caring Times. The awards celebrate the best people in the care sector, highlighting excellence and rewarding those who work tirelessly to provide consistently outstanding care.