Residents bake up a storm for National Baking Week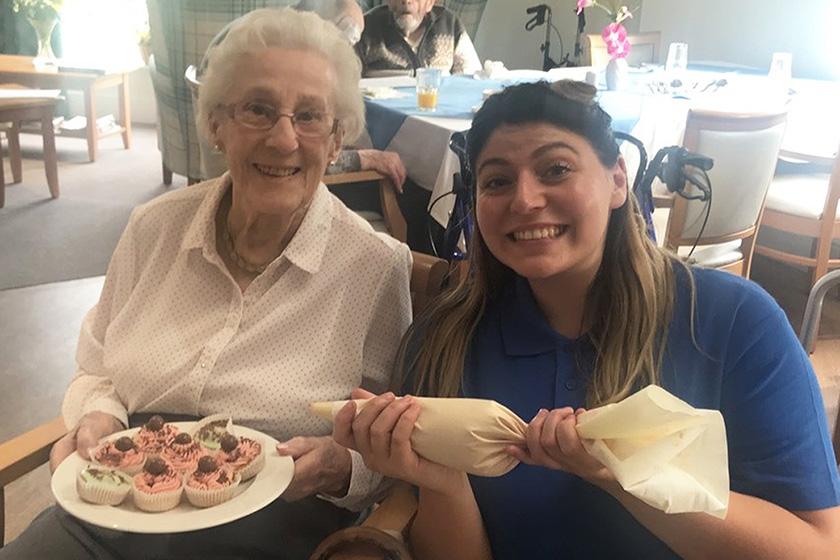 There was plenty of stirring, whisking and icing as Sanctuary Care residents bake up a storm during National Baking Week (15 – 21 October).
In Wirral
The team and residents from Ridgewood Court Residential Care Home in Ridgewood Drive took inspiration from The Great British Bake Off to hold their very own cake bake earlier this week, which proved extremely thought-provoking.
Feeling the flour power, residents competed for the title of 'Star Baker', baking and decorating cupcakes and cookies to be judged on taste and appearance by the home's activities leader Ashlea Kelly.
Resident Ethel Wignall said: "I really enjoyed making the cookies! The chef even helped make my very own gluten free batch!"
Fellow resident, Peggy Cross added: "I haven't baked in years so really enjoyed it. I am actually a pretty good baker and I almost didn't want to have to eat them afterwards as they looked so good!"
Following her 'Prue Leith' judging stint, Ashlea said: "Who needs The Great British Bake Off when you've got the Sanctuary Care bake off? We had a lot of fun and the cupcakes and biscuits were genuinely delicious – there were smiles, laughter and a whole lot of sprinkles!"
Meanwhile in Plymstock
There was chopping and slicing galore when the team and residents from Furzehatt Residential and Nursing Home held their own savoury bake off to create delicious Cornish pasties.
90-year-old resident Keith Lane said: "I really enjoyed making the pasties as I've never in my 90 years made them before."
Fellow resident Briony Corbey, 79, added: "Oh I had a great time making them and they tasted delicious too."
Activities leader Suzie Davis continued: "Everyone had such a fantastic day and for many it brought back wonderful memories of when they used to bake for their young families."
About National Baking Week
National Baking Week is an awareness drive to get Britain baking again, while promoting that baking itself can bring many benefits for well-being.