Shining stars at Brambles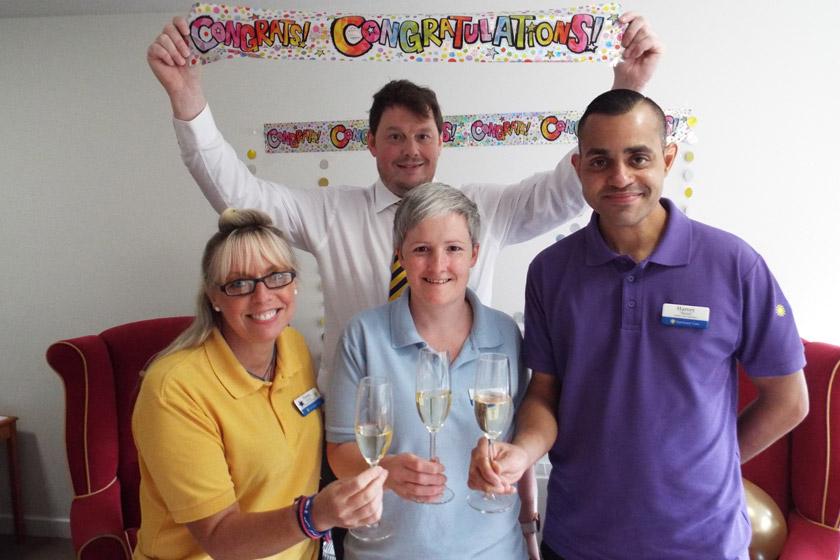 Three shining stars at a Sanctuary Care home in Redditch are over the moon after being shortlisted for the West Midlands regional finals of the Great British Care Awards.
Kay Walker, Harvey Thandi and Fiona Morsy – all from Brambles Residential Care Home in Birchfield Road – are to go head-to-head with care professionals from across the region, where they will find out if they have won prestigious accolades for the inspiring care and support they give to their residents.
The Care Home Activity Organiser Award
Fiona has been shortlisted for The Care Home Activity Organiser Award, which celebrates individuals who provide an activities programme which shows 'exceptional skills and creativity'.
Talking about the moment she was told she had been shortlisted, Fiona said: "Oh I was literally flabbergasted and emotional too. I can't believe I have been shortlisted. It is such a wonderful feeling."
Fiona, who has worked at Brambles for two years, continued: "I absolutely love my job; it doesn't feel like work to me. I strive to put a smile on everyone's face and I love creating lasting bonds with residents and their families – there isn't another job like it. I feel I have an extended family and every time a new resident comes in, that family grows. If I win this award, it will be for the residents!"
The Ancillary Worker Award
Kay Walker, domestic supervisor, has been shortlisted for The Ancillary Worker Award, which recognises an individual who delivers an 'excellent, person-centred service', while 'demonstrating dignity and respect'.
Kay, who has worked at the home for six years, said: "I was so shocked to hear I had been nominated, let alone shortlisted. It is such a surreal feeling, a real mixture of nervousness and happiness."
She continued: "It is so lovely to hear all the lovely comments from my nomination. I am so proud to be working at Brambles, I adore the residents – they are like my friends. I am working in their home, so I always respect that and do all that I can to make them happy."
The Frontline Leaders Award
Meanwhile 32-year-old Harvey Thandi, who has worked at Brambles since he was 19 and has been a senior care assistant for the last six years, has been shortlisted for The Frontline Leaders Award, an accolade for someone who has shown inspiring leadership qualities.
Speaking of his nomination, Harvey said: "I work so hard to support every single member of the home's team, teamwork is everything and everything we do is for our residents. Nothing is too big or small for anyone and I will always do what I can to help, that's my motto really."
Sharing how his family reacted to the news, Harvey continued: "My parents were so pleased. My dad actually applied for the job for me back when I was 19, he is always saying how proud he is of me and how I've progressed within the home – and now I could have an award under my belt. I am so chuffed."
Everyone is so proud
The Sanctuary Care home's manager Andy Woodward added: "We are all so proud of Kay, Harvey and Fiona. They are real team players who care for residents as if they were members of their own families. As a home manager I couldn't ask for anything more."
The trio will be attending a black tie awards night on Friday 30 November in Birmingham, where the winners will be announced.