Andrew celebrates awards victory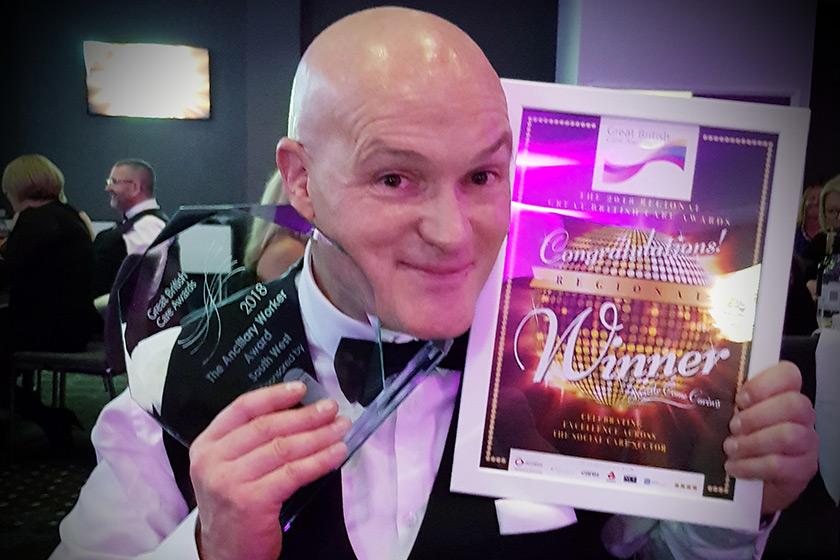 A kind-hearted and inspiring maintenance man from a Sanctuary Care home in Bridgwater is through to the national finals of the Great British Care Awards.
Andrew Morgan, from The Rosary Nursing Home, has just gone head to head with care staff from across the region in the South West regional finals of the prestigious annual care awards, winning the Ancillary Worker category.
Having worked at the home for three years, Andrew was nominated for the amazing things he does every day for his residents, going above and beyond to bring them joy.
Among these are creating a magical winter wonderland in the home's gardens, spending weeks setting up and connecting over 15,000 individual lights! He also sculpted a beautiful wooden cross for the bedroom of a very religious resident and found a way to install a special television box in the room of Portuguese resident so he could watch his native country's channels.
Andrew said: "Being recognised for this award was a humbling feeling and then winning the regional final was amazing. Going up against all the other care companies in the South West and wining shows I am making a difference to the lives of my residents. 
"Whether it's putting up pictures, making a winter wonderland or simply sitting for a chat, to see the residents happy and looking forward to whatever we have planned next is always rewarding and this award is for them as much as is it for the rest of the staff at The Rosary. We are one big happy team and I have their support for the national finals next year."
Manager at The Rosary, Natali Edwards, attended the awards night with Andrew at the Ashton Gate Stadium in Bristol.
She said: "We are all so blessed to have Andrew in our home – he is the kindest, warm-hearted person you could meet and will do absolutely anything for our residents and team.
"Everyone at Sanctuary Care is over the moon that he has got this award, he whole-heartedly deserves this recognition and we have everything crossed for the finals!"
Following the accolade – Andrew will now go to the grand finals of the Great British Care Awards at the International Conference Centre (ICC) in Birmingham in March 2019, where he will find out if he is a national winner.