Happy 100th birthday Margaret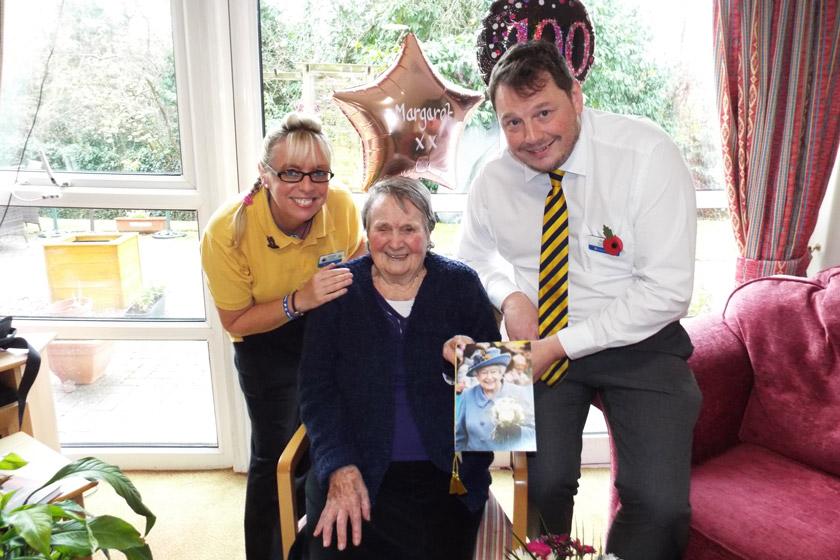 A Sanctuary Care resident in Redditch who worked at Cadbury World at the age of 18, has celebrated her milestone 100th birthday last week
Born five days before the First World War ended, Margaret Davis celebrated her 100 years on Tuesday 6 November with a family party at Brambles Residential Care Home in Birchfield Road.
When asked what her secret was to reaching 100-years-old, Margaret said: "Behave yourself, and I was always told by my mother to look after your teeth and the rest will look after itself – and here I am 100 years old and still with my own teeth."
Born in Bristol Road, Birmingham, Margaret was the only child to parents Mary and Ernest. Soon after Margaret's birth, the young family of three moved to Australia before returning back to Birmingham when she was 14.
After her years at a private school in Handsworth, Margaret started working at Cadbury World at the age of 18.
Not long after joining Cadbury World she found love with Ivor Lewis Davis at a local tea dance. Ivor worked in the sorting office at the local post office but sadly passed away at 53 years old.
Margaret said: "Ivor was the perfect husband and still means the world to me."
The pair, who set up home in Bournville, went onto have two sons, Paul – who lives in Solihull and Colin – who lives in Stourport-on-Seven.
After the birth of her two sons, Margaret left Cadbury and carried out office work, and in her later years, instead of retiring, she volunteered for Oxfam.
The Davis family has since blossomed to four generations, Margaret continued: "My family mean the absolute world to me, they always have and always will."
The Sanctuary Care home's activities leader Fiona Morsy concluded: "Margaret is a lovely woman, she is always smiling and you would never think she was 100 years old. She is such a big part of the home and we are over the moon to have celebrated such a milestone birthday with her and her."