A poppy for every year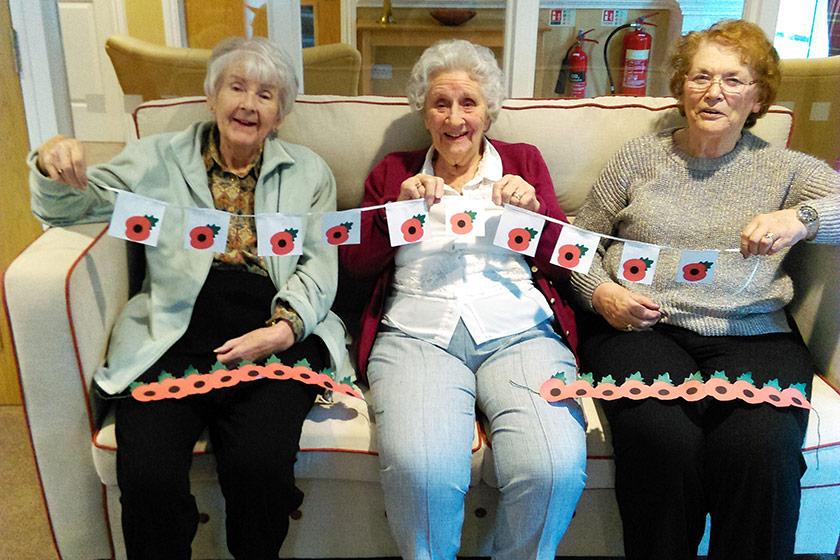 Sanctuary Care homes across the country are exploring creative ways to mark Armistice Day.
Residents and the team at Furzehatt Residential and Nursing Home in Plymstock, Upton Dene Residential and Nursing Home in Chester and Don Thomson House Residential Care Home in Harwich have been rolling up their sleeves this week to craft beautiful homemade poppies.
From poppy bunting to poppy brooches
Armed with their mission to create as many poppies as possible to mark the 100th anniversary of the end of the First World War, residents have been adorning their homes with their scarlet decorations ahead of Remembrance Sunday.
Transforming their home into a scene of poppies, residents have been busy making an abundance of themed decorations, including felt poppy posters, wreaths made out of plastic bottles, striking bunting and beautiful brooches.   
Remembering the sad and happy memories
79-year-old Furzehatt resident Briony Corby said: "It was so lovely for us all to come together and make poppies. We were all sharing memories – some sad, some happy but important to be remembered.
"I personally thought of my dad and my husband's grandfather, who both fought in the war."
Fellow Furzehatt resident Hilda Pugh, 96, added: "I was 18 when the Second World War started and I remember my home being bombed in Bristol. I have so many memories and that's why Remembrance Sunday is so important to me. I had a warm feeling making the poppies and thinking of all the soldiers."
Meanwhile at Don Thomson House, 86-year-old resident Patricia O'Brien said: "The wreath was such a clever idea, the colours look striking and it was a fun activity."
Upton Dene's activities leader Bernie Harding concluded: "With many of our residents having experienced the war, it is so important that we mark this special day.
"Making the poppies was a very fitting activity and we can't wait to see them up and around the home in tribute to the brave people who have lost their lives."