Sanctuary's blossoming volunteers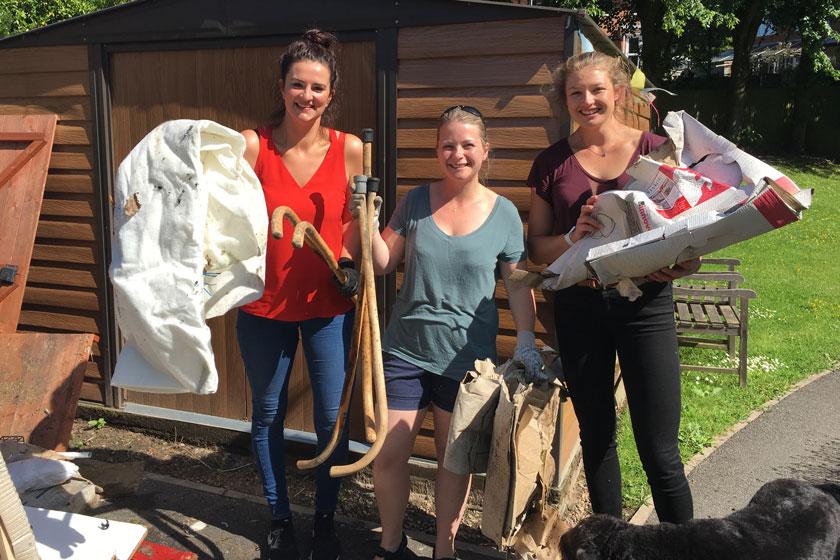 Kind-hearted employees from Sanctuary Care have been volunteering their time at a Birmingham care home for World Kindness Day.
Jemma Robinson, Elizabeth Hutton and Libby Johnston from Sanctuary Care's transformation team have been blossoming into green-fingered heroes to transform a garden space for care home residents.
Showcasing their blooming good gardening skills, the volunteers rolled up their sleeves to clear flower beds ahead of the change in season and repainted a seating area for residents to enjoy, while also finding a storage area for garden games and furniture.
Works took place at Sanctuary Care's Castlecroft Residential Care Home in Birmingham.
Home manager at Castlecroft Leanne Carter said: "Our garden has always been a hub of the home, especially during the summer months so it is extremely kind of Jemma, Elizabeth and Libby to come in and dedicate their time to give it a small face lift.
"The residents adore the change and we are already picturing who will be eyeing up the gorgeous new seating during our future garden celebrations."
Jemma Robinson, volunteer and Sanctuary Care's programme manager added: "We all had a fantastic day helping out in the garden, it was a couple of hours of hard work but it was so worthwhile – seeing how grateful everyone is at Castlecroft is so heart-warming. The residents love the garden so we are proud that we helped to spruce it up a little bit."
The volunteering was part of Sanctuary's Employee Volunteering scheme that gives employees the chance to support a cause close to their heart – either giving something back to a community or to share skills to support wider areas of Sanctuary's work.