BCU student paramedics supported by Sanctuary Care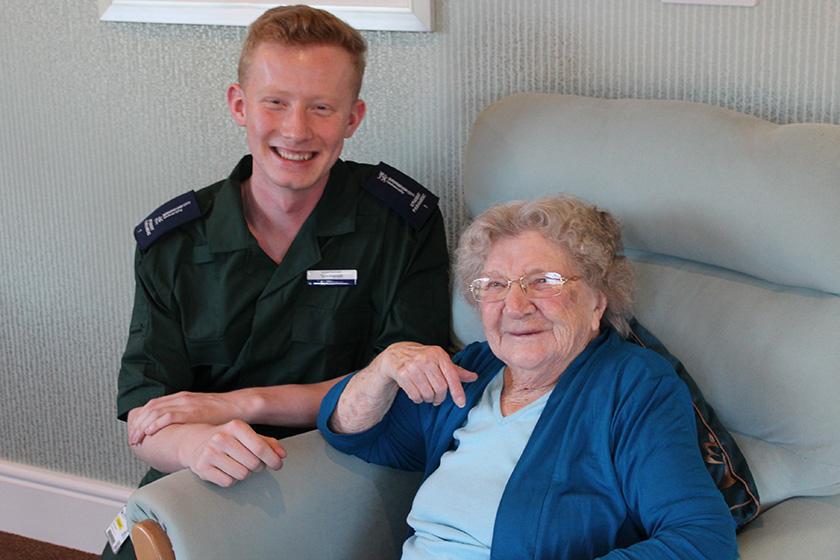 Sanctuary Care homes across the Midlands are providing valuable work experience placements to around 200 trainee paramedics, physician associates, occupational therapists and physiotherapists.
Students from Birmingham City University (BCU) and the University of Worcester are getting work experience at around 20 of Sanctuary Care's homes, including those in Birmingham.
Tom Morrell is one of the first-year student paramedics from BCU to successfully complete his two-week placement at Castlecroft Residential Care Home in Weoley Castle, Birmingham.
The 19-year-old said: "I've loved it. It has been really good to learn more in terms of communication and I have especially enjoyed chatting to the residents and learning about their history and the history of Birmingham, which has been really interesting."
The placements, which will be staggered until March, give the students the opportunity to develop their communication, social and practical skills and are a fantastic way for Sanctuary Care to help aspiring young medical professionals.
Sanctuary Care's Yunus Giwa, Senior Work Programmes Officer said: "We are proud to be supporting two of our local universities by helping their students to get such incredibly valuable work experience. 
"The placements are an excellent way to encourage intergenerational engagement – many of our residents really enjoy spending time with the younger generation, so this is extremely beneficial for them too."
Sharon Hardwick, Senior Lecturer Paramedic Science said: "This is a new and exciting opportunity for students at BCU. "Feedback so far has been positive with the students developing their communication skills and knowledge around the procedures in operation in the homes. All of this is valuable experience for the students as it will help them when continuing on their emergency ambulance placements and during their learning on their three-year degree course."
As part of their placements the students, who shadow members of Sanctuary Care staff, have been doing everything from learning about residents' care plans and how to write their life histories, to undertaking physical assessments, learning how to support residents who are less mobile, taking part in an array of activities and helping at mealtimes.