Happy 100th birthday Hilda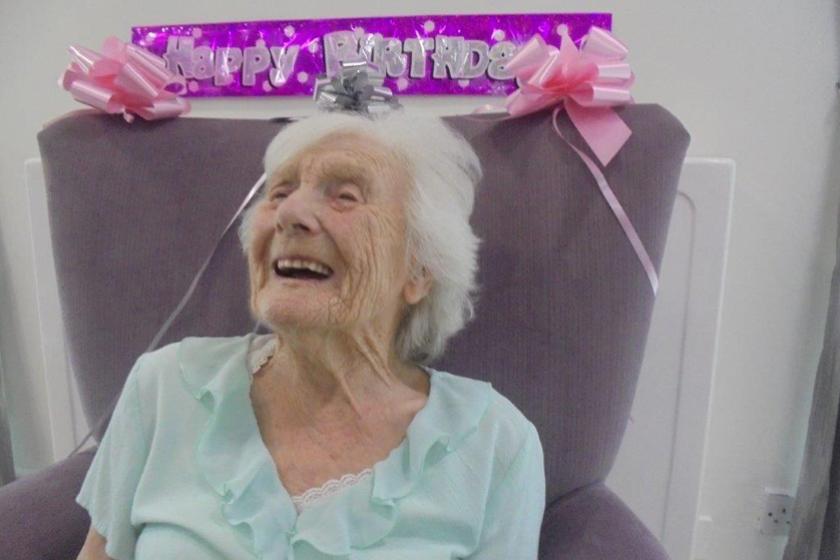 A Sanctuary Care resident in Spondon, Derby who once managed Ambergate Service Station celebrated her milestone 100th birthday over the weekend.
Born on Monday 2 June 1919, Harriet Hilda Perrie, who likes to be known as Hilda, celebrated her 100 years on Sunday with a family party at The Laurels Residential and Nursing Home in Nottingham Road.
Born and bred in Derbyshire, Hilda, who grew up with 14 siblings has always lived in the county.
It all began in Little Eaton where she was born and Hilda moved to Freehold Street, Derby when she was about six months old. It was here she called home throughout her schooldays.
Hilda attended the all-girls school, now known as The Bemrose School, on Uttoxeter New Road, which gave her the foundation she needed to start a career in purchasing.
Following her school years, Hilda started her career ladder by working for Roleys Hosiery Factory, before moving onto work at International Combustion Limited in the purchasing and buying department. She later switched positions at Rolls-Royce in Raynesway, where she was in charge of the typing pool and tracing stores.
At 25 years of age, Hilda married the love of her life George on Saturday 16 December 1944 at St Luke's Church and the pair moved to Ambergate, where they embarked on a dual career change, running and managing Ambergate Service Station.
After several years at the service station, the pair decided to relocate to Belper and 'set up shop', quite literally to run a local convenience store (pictured) in Whitemoor Lane.
During their time working together, George and Hilda also found time to have their son, Arthur.
The Perrie family has since blossomed to three generations. Arthur went onto marry Brenda and the pair became a family of four after having had two children of their own, Andrew and Karen.
The Sanctuary Care home's activities leader Becky Slack said: "Hilda is a lovely woman and it was a great privilege to celebrate her 100 years with her loved ones. She is such a big part of the home and everyone here at The Laurels are so pleased to be a part of her milestone birthday."