Fabulous festive bake-off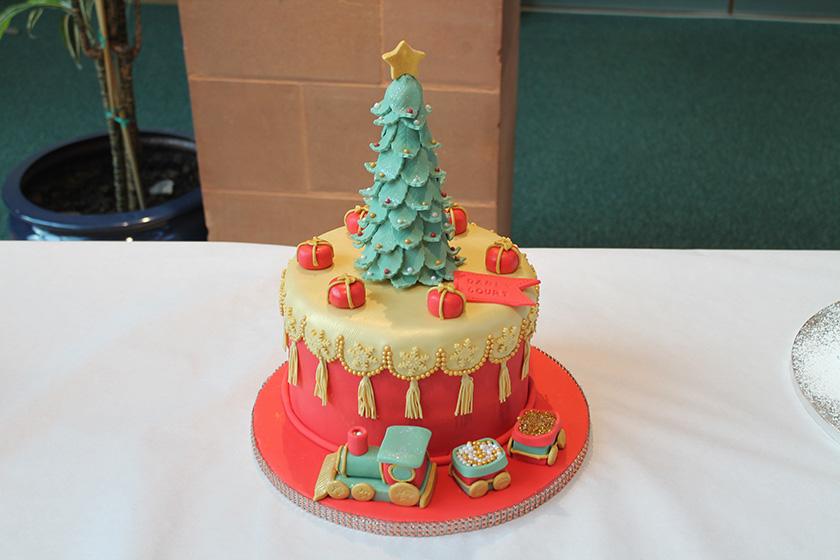 Budding bakers from Sanctuary Care's homes have been busy mixing and icing, to create some truly magnificent Christmas cakes.
The judging of Sanctuary Care's annual festive bake off took place at its Worcester offices recently. Staff from our care homes across England and Scotland entered some spectacular designs, which were judged on taste, texture, presentation, colour, design, innovation and skill.
One of the judges, Sarah Clarke-Kuehn, Group Director – Care, said: "The staff in our care homes have really made us proud. It's wonderful to see so many innovative and imaginative entries this year - with such diverse interpretations of a traditional Christmas cake.
"The level of creativity, the quality of presentation and variety of flavours was superb."
In first place was a stunning cake decorated in red icing, with a Christmas tree on top and a train made from fondant icing at the base, created by Patricia Chalmers, care assistant at Dalby Court Residential Care Home in Middlesbrough.
Coming close behind in second place, and winning the Sanctuary Care staff vote for design was a cake from Ashley House Residential Care Home in Bordon, Hampshire. It featured three mice sleeping in a bed, complete with Christmas stockings filled with presents. This detailed and intricate cake was baked by catering assistant Jamie Breakwell and decorated by Karin Hoogenhout, the home's administrator.
In third place was a cake from Barony Lodge Residential Care Home in Nantwich. It featured Santa Claus sleeping in a bed and was baked by Jackie Wealleans, chef manager and decorated by Jackie Jones, team leader.
Well done to our exceptionally talented and creative staff!