Giving something back this Christmas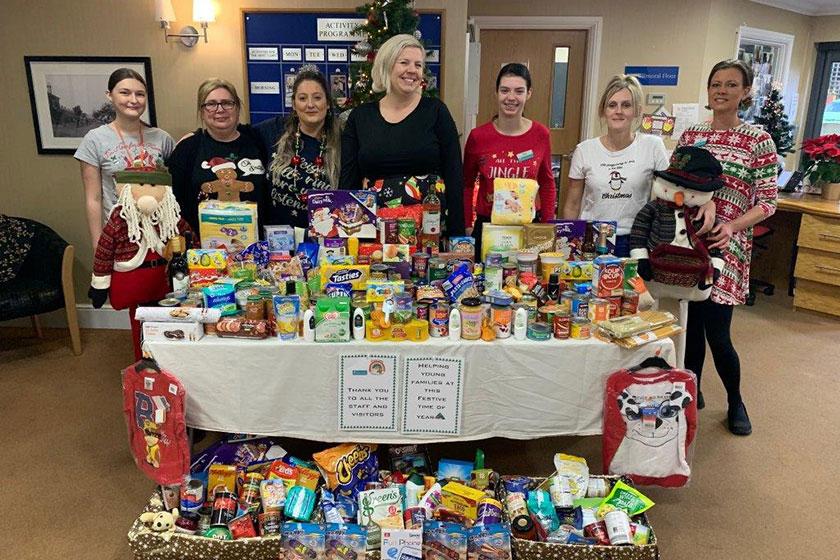 Staff across Sanctuary Care's homes and Worcester offices have been generously donating items and gifts to help people in their local communities.
A reverse advent calendar was launched across all of our homes to give something back to those less fortunate. Once all the items were collected they were donated to local charities, including hospices, food banks and shelters for the homeless.
One of the homes that took part was Castlecroft Residential Care Home, with staff creating huge hampers packed with food items, nappies, clothing and treats for a local food bank.
Activities leader at the care home in Birmingham, Tina Bennett said: "The staff have been so generous and have whole heartedly embraced the reverse advent calendar.
"Everyone was so happy to help give others a better Christmas, with treats that they may not be able to afford. Some got quite emotional when they could see how much we had collected."
Throughout December our staff have been donating items of non-perishable food and gifts to spread cheer in their local area. In return during the week leading up to Christmas they hung up their uniforms to wear fun festive clothing and accessories.
The team at Dalby Court Residential Care Home made a very special delivery to Zoë's Place Baby Hospice, an amazing charity which cares for babies and infants with life-limiting and life-threatening conditions.
The items donated included sensory toys, as well as gifts for the siblings of children cared for at the hospice.
Manager at the care home in Middlesbrough, Diane Maughan said: "Christmas is a time for giving and my team, as always have been so generous and kind-hearted."
Meanwhile in Somerset, staff at The Rosary Nursing Home, a nursing home in Bridgwater collected huge boxes for their local food bank.
The team at Heathlands Residential Care Home, a care home in Pershore, collected dog food, bedding and toys for Worcestershire Animal Rescue (WARS) in Malvern, as well as their local food bank.
Well done to our amazing staff, once again you have made us very proud!