Abigail "so proud" to be a Sanctuary Care apprentice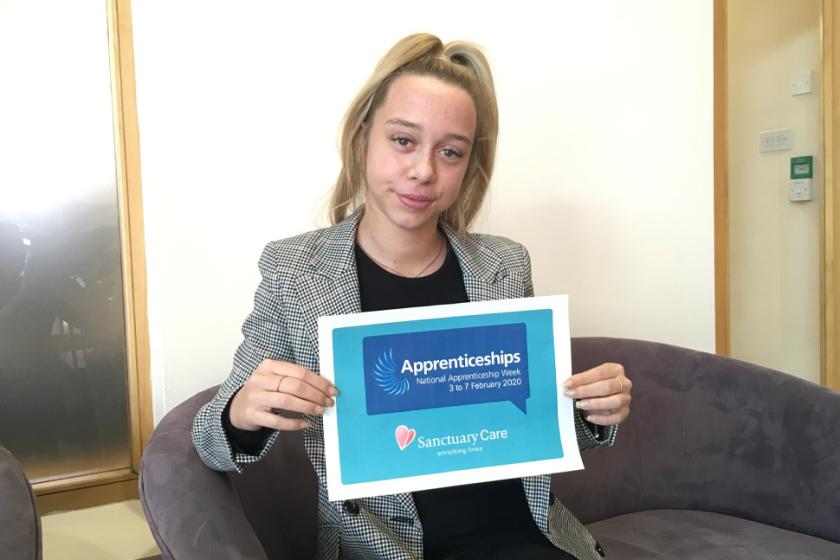 Meet Abigail Troop, who at the age of just 20 is now in her second year of an Assistant Practitioner Apprenticeship.
During #NAW2020, Abigail shines a light on becoming a Sanctuary Care apprentice, something she said is the best thing she's ever done.
Joining The Laurels Residential and Nursing Home in Derby as a care assistant two years ago, Abigail immediately knew her heart belonged in care.
She says: "I love knowing that I am making a difference to our residents, making sure they are happy. You build such a good rapport with the residents; they are like your family."
Learning all the time
Abigail, who likes to be known as Abbie, very quickly knew that she wanted to progress her career and was given the opportunity by Sanctuary Care to start an Assistant Practitioner Apprenticeship. This role bridges the gap between care and nursing roles, with the apprentices learning to carry out key clinical duties such as monitoring vital signs and administering medication.
Now in her second year of a two-year course, Abbie studies at the University of Derby one day a week, spending the rest of her time working at The Laurels, putting what she has learnt into practice.
Abbie's confidence has soared
She says: "What I love most about my apprenticeship is the experience and knowledge I've gained. 
"It feels amazing to pass each module.  My proudest moment to date was passing my physiology and anatomy exam!"
Advice to anyone considering an apprenticeship
Abbie has a very simple message for anyone considering becoming an apprentice with Sanctuary Care: "Go for it" she says. "It's the best thing I ever did.
"Sanctuary Care is a really good company to work for and they give you so much support.
"I feel very proud to be here, I never thought I would be where I am now."