Billy's apprenticeship is bridging the gap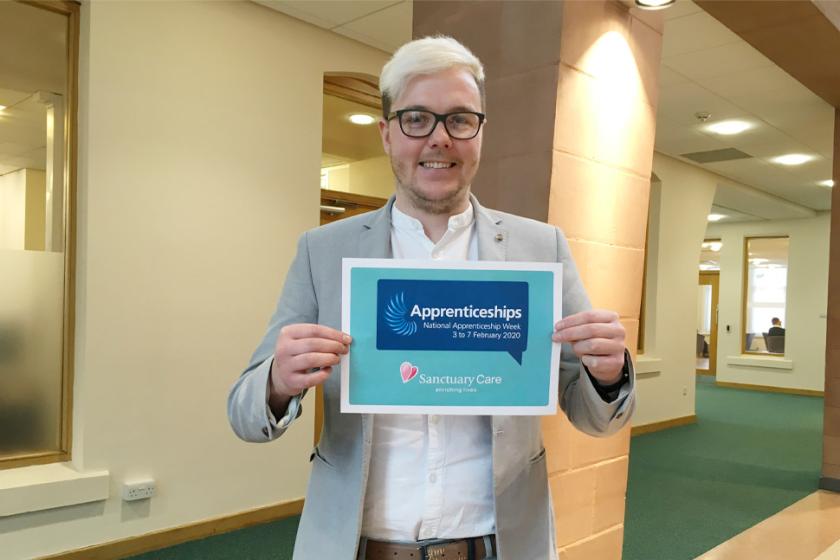 Meet Billy Pattison, who for #NAW2020 gives us an insight into his role as a student nursing associate apprentice with Sanctuary Care.
Starting his career at our Fernihurst Nursing Home in Exmouth in 2015 as a domestic and kitchen assistant, Billy quickly realised care was his true calling. He became a care assistant and then a senior carer, with a strong desire to move into a nursing role.
When Sanctuary Care launched its Nursing Associate Apprenticeship programme, Billy went to a recruitment open day for Sanctuary staff and never looked back.
What's involved?
Fully funded by Sanctuary Care, Billy's two-year apprenticeship enables him to continue working at Fernihurst. He studies for this level 5 foundation degree one day at week at the University of Plymouth. Billy then applies everything he learns at the home under the supervision of a dedicated registered nurse, who is his supervisor throughout the course.
Designed to bridge the gap between care and nursing roles, Billy is learning key clinical skills such as wound dressing, taking vital signs, blood sugar monitoring and administering medication.
The highlights for Billy
Since starting his apprenticeship in September 2019, Billy has loved being able to apply what he has learnt into his daily work at Fernihurst.
"It's about having that clinical knowledge to be able to interpret results myself which I love," he says.   "It gives me a real sense of pride."
Billy said the home's team and residents benefit so much from the creation of this new position.
He adds: "It's great for the home because the nurses can focus on their role and with me picking up these clinical tasks, so it's bridging that gap."
What makes an apprenticeship so rewarding?
One of the benefits of doing an apprenticeship for Billy has been the fact that he can continuously develop his skills while working.
He says: "I've felt my confidence grow and have shown competence in the workplace, this is one of the benefits of being able to learn while working. My experience so far has been excellent."
The future is bright
Billy loves his apprenticeship and the opportunities it is giving him.
"I would say to anyone considering an apprenticeship to do it! It gives you the opportunity to progress your career. The support I have had from the team at the nursing home and the Learning and Nurse Development Team at Worcester has been phenomenal.