Meet Abbie, an apprentice at Sanctuary Care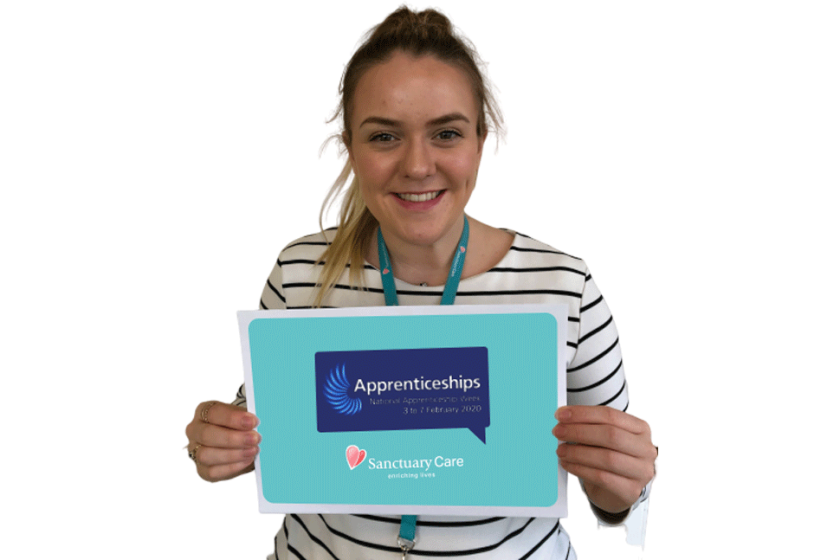 In 2018 the BBC reported that the health, public services and care sector were the most popular amongst apprentices. And here at Sanctuary Care we are proud and fully committed to supporting the national apprenticeship scheme.
This #NAW2020 we are shining a light on all our wonderful apprentices - starting with Abbie.
Meet Abbie Smith
18-year-old Abbie Smith has taken the big leap into the care sector with an apprenticeship with Sanctuary Care. And she's "loving every minute" of her Level 2 Qualification in Business Administration.
Starting her apprenticeship straight from Christopher Whitehead Sixth Form in Worcester, Abbie is now a popular member of the Care Business Services team - the central supporting team for over 100 care homes.
But why an apprenticeship with Sanctuary Care?
Deciding against going to university after her A-levels, Abbie said: "Throughout my time at school, I knew I wanted to do an apprenticeship as I thought it would be a great opportunity to experience working life and develop a range of skills whilst gaining qualifications - it was the win-win I was looking for.
"So when I saw the opportunity of a Business Administration Apprenticeship with Sanctuary Care I jumped at the chance. Sanctuary appealed to me instantly because of their values - they genuinely care about their residents and their people. And I knew right away, I wanted to work for a company where the ethos was to not only improve lives, but enrich them. And here I am. I was over the moon when I was accepted."
Business Administration Apprentice at Sanctuary Care
And the opportunity for Abbie has not disappointed - she is thoroughly enjoying her varied role.
Abbie explains what a day in the life of an apprentice is like: "As part of my role in the Care Business Services team, I am able to provide business support for our homes, as well as for the staff in our central teams. I get to meet and work with some truly amazing people in a wide range of roles."
"My main responsibilities include keeping business documents and information up-to-date and communicating key information to the wider business - no two days are the same and all are enjoyable."
"...working for Sanctuary Care is the best thing that's happened to me"
Abbie shares why an apprenticeship at Sanctuary Care is enriching her life: "It truly is the best thing that's happened to me working for Sanctuary Care. Its given me the chance to develop new skills every single week, allowing me to become more confident. And although I am only at the start of my career at Sanctuary Care, I'm so proud of the support I am able to provide to our residents and my fellow colleagues, thanks to my amazing team. It brings me such joy and it's so rewarding!"
What's next for Abbie?
Once completing her apprenticeship with Sanctuary Care, Abbie hopes to remain at Sanctuary and to continue furthering her career. Abbie concludes: "Sanctuary Care is my employer of choice. I am open to opportunities and I'm excited to see what my future at Sanctuary holds."