Olivia shares her experience this National Apprenticeship Week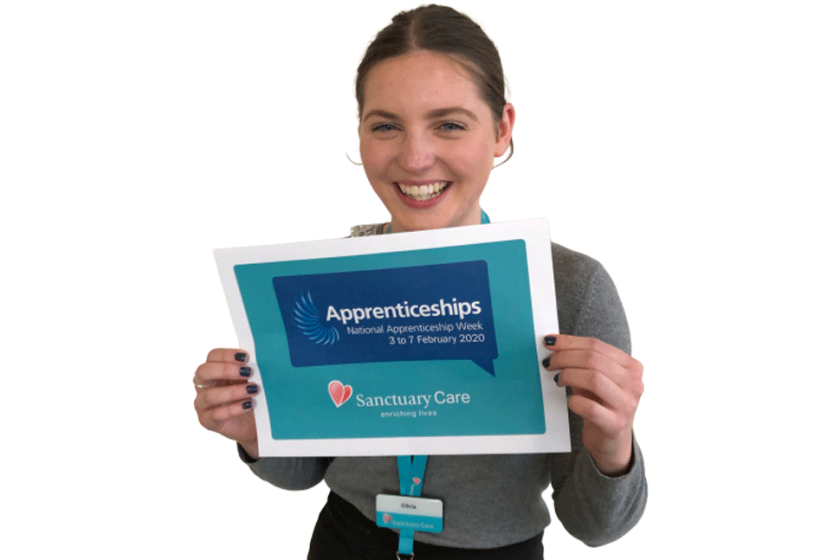 Apprenticeships at Sanctuary Care are provided with on-the-job experience, essential learning and experiences to form the foundations for a bright career. Not only that, they are often be a stepping stone to a promising career with us.
Just like Olivia, who started her apprenticeship in 2017 - she shares her story for #NAW2020
Meet Olivia Davies, once a Sanctuary Care Apprentice, now a Finance Administrator
18-year-old Olivia Davies is now working hard and forming a fantastic career in our Finance department as a Finance Administrator. But it didn't start there...
Olivia explains: "I originally joined Sanctuary Care back in September 2017 when I joined as an apprentice for the Care Business Services team, where I gained amazing experiences supporting both my colleagues and residents."
"With the support from my experienced team, I went on to complete both my Level 2 and Level 3 Apprenticeship in Business Administration."
Choosing the right apprenticeship
Fresh from her GCSEs, Olivia shared why Sanctuary Care was the apprenticeship of choice for her: "I always knew I wanted to get out and gain as much on-the-job experience as soon as I possibly could."
"So when I finished my exams, I proactively hunted for the right apprenticeship for me. And Sanctuary Care really stood out. The thought of helping residents or loved ones find the right care home for them was something I really wanted to do and I was impressed with the good reputation Sanctuary had."
An apprenticeship of personal highs
And the apprenticeship did not disappoint. Olivia said: "My apprenticeship with Sanctuary Care offered me far more than I ever expected. Not only did I deal with a range of duties but I also built and maintained strong working relationships that I will always be grateful for."
Along with enjoying getting to grips with her new-found skills, taking part in job shadows and workshops throughout her apprenticeship, Olivia had a string of personal successes.
Starting with being nominated for a Sanctuary Apprentice of the Year Award and a staff award, to receiving a personal thank you from a Regional Director for going above and beyond with the level of support and service she delivered.
Future career plans following apprenticeship success
After sailing through her apprenticeship, Olivia is now a permanent member of the team as a Finance Administrator.
But she's not stopping there, Olivia concludes: "Working for Sanctuary Care is an amazing opportunity and the perfect outcome from my apprenticeship. I'm going to continue to develop my learning and build strong relationships with other teams. There is so much to gain working at Sanctuary and I'm going to jump at every opportunity that arises."