Sanctuary Care shortlisted for two national awards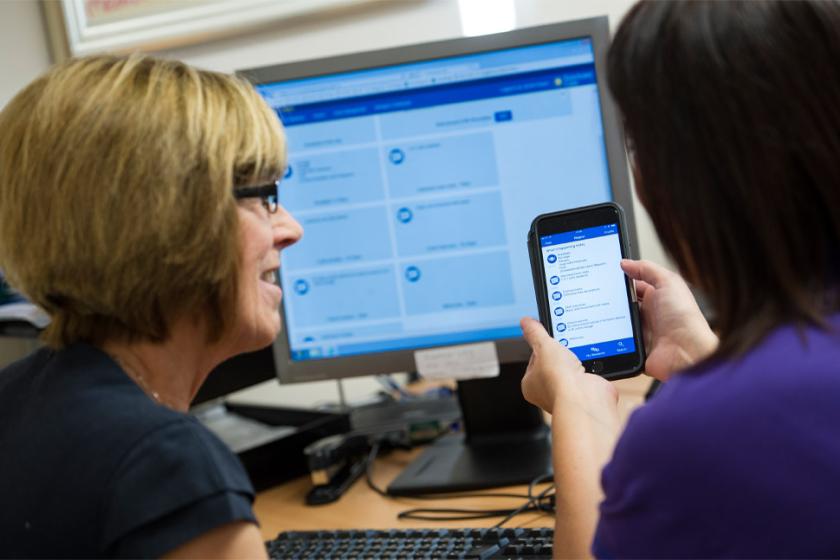 The team and residents at Sanctuary Care are celebrating after being shortlisted for two prestigious national Care Home Awards 2020.
The leading care provider is in the running for the Best for Use of Technology Award for the way it uses its bespoke care planning app 'kradle' and other technologies to enrich the lives of its residents.
Meanwhile its 'Outstanding' rated Lammas House Residential Care Home, a care home in Coventry is a contender for the Best for Communication Award, for the exceptional way it communicates with its residents and their loved ones.
Sarah Clarke-Kuehn Sanctuary's Group Director – Care said: "We are incredibly proud to have been shortlisted for not one but two awards.
"We are a forward-thinking care provider dedicated to enriching our residents' lives and embracing technology has an important role to play in this. The beauty of kradle is that it gives our staff more time with residents, and time is precious when it comes to providing quality care. And because it's completely bespoke, it continually evolves with the needs of our staff and residents.
"Rukmi Silva and her team at Lammas House truly shine when it comes to the way they communicate with their residents and relatives, something which was highlighted in their glowing CQC report. We watch this home go from strength to strength and feel a great sense of pride in the team's achievements."
Sanctuary Care is rolling out kradle to all of its homes (over 100 across England and Scotland), completely replacing paper-based care plans. Staff can efficiently and securely update electronic care plans directly at the point of care using iPhones, giving them more time to spend with their residents. 
kradle has been developed in-house by a dedicated project team, a partnership between Sanctuary Group's Technology Team and Sanctuary Care staff, who have over 50 years' care experience between them. It can therefore be continuously improved and adapted internally in real time. Staff caring for residents provide regular feedback, which directly influences the way kradle develops, so it has been created by the end user for the end user, with quality care at the very heart.
Kevin Heslop, Sanctuary's Group Director – Technology added: "We are so proud of kradle - it's a testament to how the care and technology teams have worked together."
For Rukmi Silva and her team at Lammas House, communication is central to every single aspect of care within the home. It ensures they know exactly what their residents need in terms of their care, but also what they wish for and desire to live their best life.
Rukmi said: "We are so proud to have been shortlisted, because excellent communication is central to everything when it comes to providing our residents with the outstanding care, enriching their lives and also supporting their loved ones. My team make me so proud and this is a well deserved congratulations to them for the amazing way they care for our residents."
The nomination highlighted how residents are directly involved in the day to day running of the home. Rukmi has resident representatives who have a role in everything from interviewing potential staff to supporting the home to deliver its innovative climate change agenda.
Testimonial evidence from families shows how staff go above and beyond when communicating with them, offering reassurance and support. Communication between staff is also exceptional, with dignity champions responsible for sharing their knowledge on key areas of care, with both their colleagues, residents and their loved ones.
In partnership with Care Home Management, The Care Home Awards 2020 celebrate excellence, innovation and achievement across the sector. The winners of each category will be announced at a prestigious ceremony in London in May.