Words of wisdom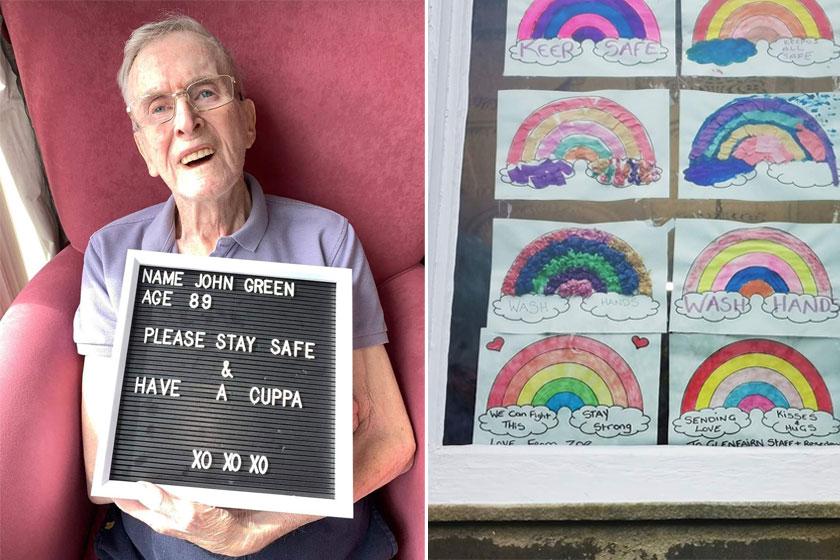 Here at Sanctuary Care we are hearing and sharing an abundance of positive messages and good-old words of wisdom, as our local communities are coming together throughout the Covid-19 crisis.
Generations coming together
Five-year-old Noah from Worcestershire has been spending his time at home posting letters and drawings to our residents at Brambles Residential Care Home, a care home in Redditch.
Not only did kind-hearted Noah showcase amazing community spirit and fantastic art skills, he also shared some wise words for someone so young.
He shared: "Everything will be back to normal if we keep smiling."
But Noah hasn't been the only one sharing words of wisdom recently.
Messages of hope from care home residents
Our very own amazing residents have taken the time to pen inspirational messages to loved ones or passers-by.
This includes our very own John at Bartley Green Residential Care Home, a care home in Birmingham. He has been doing the very same with his fellow residents.
The 89-year-old's advice is clear, simple and effective – he says: "Stay safe and have a cuppa!" (Here here John!)
Elsewhere, thanks to the Rainbow Trail, which is proving very popular throughout the UK, our amazing residents and teams are still busy, getting creative and displaying beautiful rainbows with messages of hope in our windows.
Just like Glenfairn House Care Home, a care home in Ayr.
Glenfairn's rainbows are joined by individual messages penned by our fabulous residents, including 'Sending love, hugs and kisses', 'We can fight this, stay strong' and 'Wash hands'.
And finally...
It's not just our residents who are rolling up their sleeves to be creative.
Our team at Lammas House Residential Care Home, a care home in Coventry has shared a message of solidarity.
The team came together to create a makeshift sign, with a beautiful and simple message to their community and loved ones, Stay strong, stay safe.
Home manager Rukmi Silva and her team are pictured proudly showing off their work.