Sanctuary Care rolling out hand hygiene hardware in its homes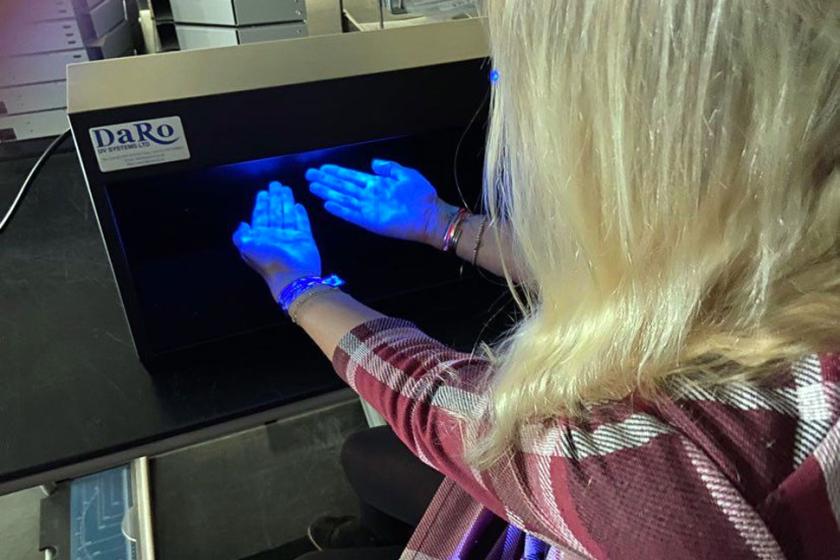 Sanctuary Care is distributing specialist hand washing equipment across its homes to ensure staff and residents are aware of the dramatic difference proper hand washing techniques can make in combatting coronavirus.
The leading care provider is in the process of distributing the UV hand inspection cabinets it has ordered from specialist supplier Daro UV Systems, with one cabinet going to each of its 102 residential care homes in England and Scotland.
By shining ultraviolet light onto the hands, the units show how effective hand washing has been at cleaning the skin's surface. A test lotion, supplied with the cabinets, is applied to the hand prior to washing and the hand itself is then exposed to the UV light before and after washing.
Remaining traces of the lotion, which will only appear when exposed to the UV light, will expose any gaps in the hand washing technique.
Staff and residents alike will be able to make use of the units as an educational tool to help ensure they can iron out any missed areas in their handwashing routine.
Sanctuary Care operations director Sarah Clarke-Kuehn said: "Hand washing technique is vital in combatting coronavirus, but despite the prevalence of clear guidance, these cabinets show how easy it can be for even the most thorough of us to miss areas.
"The use of these devices will help give our 6,800 staff the confidence that their hand washing technique is effective, while also providing useful insight for our residents nationwide."
Mervyn Douglas, managing director of Daro Group said: "Since the onset of the coronavirus, we have seen a sharp increase in demand for our hand inspection cabinet – particularly across UK care homes. 
"Daro is proud to be able to deliver products that are both educational and help support the health and wellbeing of communities and individuals and ultimately protect staff, residents and their families."