Sophie shares how Sanctuary Care's wellbeing advice has supported her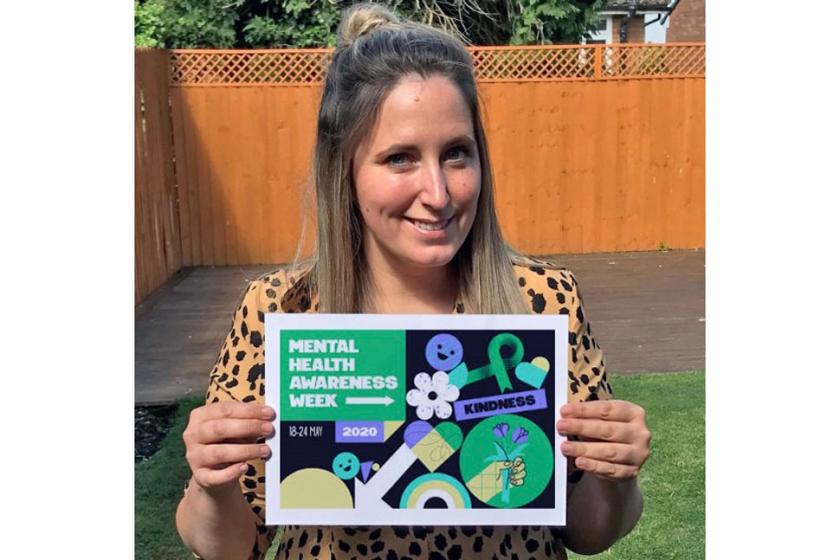 This year's Mental Health Awareness Week is all about sharing kindness – something we wholeheartedly support at Sanctuary Care.
And someone who has learnt very quickly throughout this Covid-19 crisis is that kindness starts with being kind to yourself is Sophie from our Central Support teams.
Being kind to yourself for Mental Health Awareness Week
Sophie shared: "I'm always in awe of our care home teams, they are so inspiring and real-life heroes and when the crisis of Covid-19 peaked, I just thought of them and our residents (and of course our NHS and other key workers) - I never thought that the change would impact my own mental health, I felt guilty it did.
"I felt my concerns and anxieties were minimal, and to be honest they were and selfish too – I was only missing my family and worrying about my son, not only for his routine and development, but he has regular eye appointments at the hospital and I wondered what all this meant. And even though I recognised they were petty and there were people far (far!) worse off than me, and actually I was extremely lucky, they still mattered to me, so to me they were important."
Sophie explained what she did to make a change, she said: "Don't get me wrong, I was never sitting around and moping, I just had this itchy feeling all the time and as soon as I started being kinder to myself and stopped saying 'get over it Soph', and actually talking and telling people how I was feeling – I started to thrive again, especially with the supportive tools and network Sanctuary Care provides for its employees."
Promoting positive mental health at Sanctuary Care
Sophie continued: "You can be an employee in our care or in our central teams to recognise the great effort that Sanctuary Care is going to support us all. I'm not just saying that for the purpose of this blog – they really are.
"They are continually sharing advice and third party resources – for instance when the NHS launched the Every Mind Matters' Mind Plan, we were the first to know. They are also hot off the press with any Covid-19 update and our Senior Management Team are communicating daily with their teams, not just with critical updates but with pick-me-up news and inspirational quotes because they get what their teams are going through, especially in our care homes.
"And not just that, on top of all the usual benefits we have available as an employee, they've also launched an internal hub for Staying Healthy at this time. They recognise again how everyone's lives have changed and want to support us every step of the way.
"They have shared advice on 'who do we want to be in this crisis' – do we want to fear it? Learn from it? Or even grow from it? Yes grow – because they are giving us the tools to do just that.
"They have provided us with toolkits to create a new routine that works for us (even mums and dads juggling little ones), tips on how to cope and manage with stress and even conversation starters to break the stigma around mental health at this time – the stigma I set myself before I started being kinder.
"And finally, my personal favourite, five simple steps to follow for positive mental health – healthy living, set to achieve, staying connected, enjoy the things you love and stepping back. It's my go-to motto now! If I'm having a fed up day, I look at the steps and see which one I've neglected, and nine times out of ten it's the stepping back step and I give myself the digital detox I'm craving (plus that's easier than going for a run)."
She concluded: "I could go on and on at how fantastic Sanctuary have been – but the tips and guidance have been a must read for me and for others too. No matter your team or where they are working in the company. As an employee you really couldn't ask for anything more."