Still doing what we do best!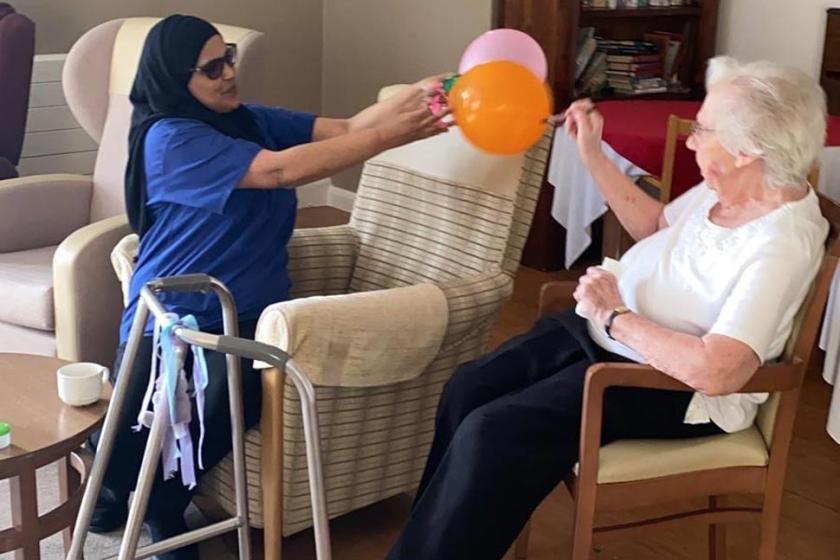 Our amazing care home staff across England and Scotland are still enriching lives, every single day.  – They are still carrying on as normal, providing high quality care, safe, clean and welcoming environments and fun and meaningful moments with our residents.
Last week we shared updates of our residents enjoying a make-shift game of Hungry Hippos – but lets find out what they've been up to this week….
Popping good-time in London
The team  and residents at Rowanweald Residential and Nursing Home, a care home in Harrow, are not letting these unprecedented times slow them down. They are keeping busy doing by taking part in some light exercise activities with a twist.
Using balloons, residents are stretching and popping balloons to music, and Care home resident Mary Woolcott (pictured with Deputy Manager Nabela Shaud) has been showing the team how it's done.
The game encourages light movements and stretches, making it not only a loud and fun game but also good for you. Showing there is no better excuse to stay fit and healthy right now. 
Blossoming friends in Hampshire
Elsewhere, residents have been rolling up their sleeves for a spot of relaxing flower arranging.
Thanks to their 'Every Little Help' friends at Tesco, Ashley House Residential Care Home, a care home in Bordon, have been arranging beautiful fresh flowers. 
Activities co-ordinator, Linda Chatfield, said: "We were thrilled to receive such beautiful flowers and our residents enjoyed arranging them into vases.
"They've really brought an extra splash of colour into the home."
Join in the conversation
To read more inspiring highlights like this, find us on Twitter and Facebook and join in the conversation with #EnrichingLives