Bubbly Agnes kicking Covid-19 away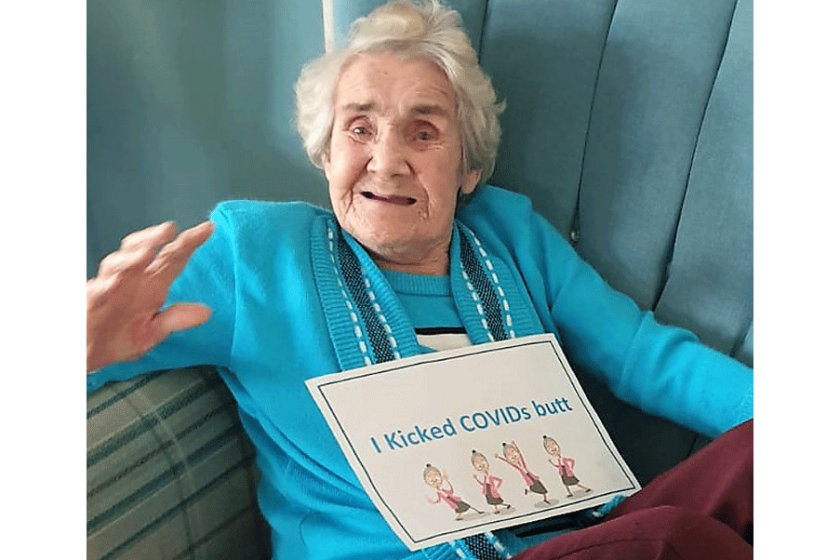 Anyone who knows 90-year-old Agnes Nelson, a resident from Abercorn House Care Home in Lanarkshire, knows she is an extremely bubbly character. She is always kicking her feet to the music and singing along to her favourite songs. And without even trying she is the centre of attention in any room she walks in, with everyone gravitating towards her infectious love of life.
And she was doing the very same only the week before she was struck with Covid-19. She went from being the life and soul of the party, to being unable to leave her bed - in a matter of days.
Knocked off her feet by coronavirus
Agnes' fight with the global virus left her feeling extremely weak, with a high fever, nasty cough and feeling very lethargic – the simplest of tasks of being able to talk became a too big of a strain for the home's party girl.
William McGregor, home manager at Abercorn House said: "One day Agnes was quite literally kicking her feet to a live bagpipe performer in the home's car park whilst clapping for carers, to waking up with a harsh cough the next. It was as if someone turned on the coronavirus switch."
'A switch' that left Agnes' care needs dramatically increased. She was cared for in bed by her dedicated team at the home, who carried around-the-clock checks throughout her illness.
Receiving the best possible around-the-clock care
William continued: "Agnes was very poorly and we initially thought that hospital treatment was the only option. But even though she fought with us at home, it didn't affect the level of care she received."
Everyone in Abercorn House rallied around their party girl Agnes, ensuring she was drinking and eating as much of her favourite foods as she could. They made sure she was always comfortable and never stopped the fun and giggles when she was fit enough to engage.
William added: "The good old Scottish banter is what made her battle with coronavirus just manageable. I'm so proud of Agnes but also of my team – it wasn't an Agnes fight, it was a team fight!"
"I wouldn't have got through it without them"
And the 90-year-old agreed, Agnes said: "The team are all blooming great, I could 'whoop' from the rooftops. I am extremely lucky to have Abercorn House, they kept my spirits up and I wouldn't have got through it without them."
Concluding on his own insight on coronavirus, William shared: "What's coronavirus? Fighting it will leave you in tears. You will cry, and you will be exhausted, and it could possibly be the worst you have ever felt. But one thing you will realise if you recover from Covid-19 is, you will notice the amazing people who were there to support you – whether that's care home teams delivering high quality care, loved ones checking in as often as they can or our fantastic NHS. You will know and you will remember."