Romford residents with dementia making the most of interactive table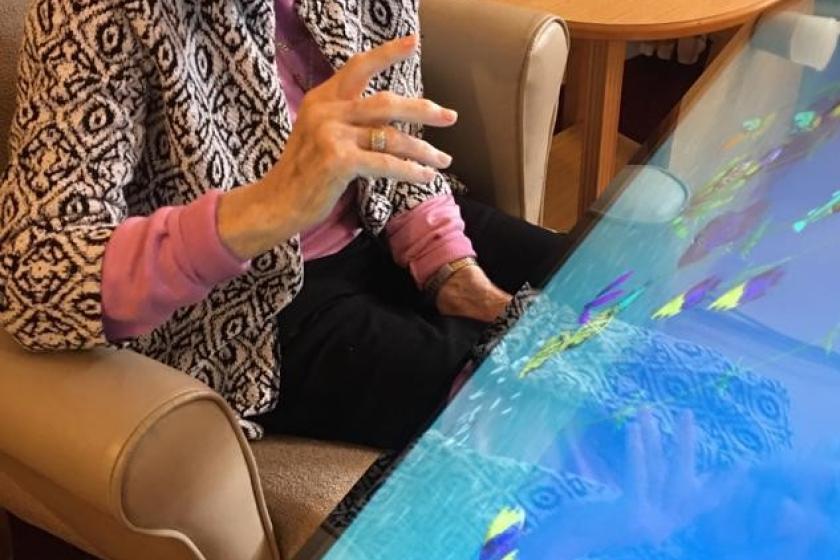 Residents at a care home in Essex for people living with dementia are benefiting from the generous donation of an interactive activities table.
The table, which works similar to a large iPad, allows people to engage with games and puzzles by touching the screen to move objects around.
Sanctuary Care's Chadwell House Residential Care Home in Romford, which provides person-centred care for up to 60 people with dementia, has been using the table to help keep residents active.
It was donated following the fundraising efforts of Chris Cole, the nephew of one of the volunteers at Chadwell House.
Chris was so impressed with the work of Sanctuary Care staff when he visited the home that he set about raising money for a table by organising a weight-loss competition among friends.
He said: "To see first-hand the work staff do to care for the residents at Chadwell House was inspirational so I asked what I could do to help them.
"They had been looking to purchase an interactive table and this seemed the perfect opportunity. It has been amazing to watch residents using the table and how much enjoyment they get from it."
Tracy Flanagan, Activities Coordinator at Chadwell House, added: "The table has provided such a boost to residents and I am very grateful to Chris for raising the money.
"Our residents have been fascinated and intrigued by everything the table can do. It is very calming for them and helps to engage them more with their surroundings."