Sanctuary Care helps residents stay hydrated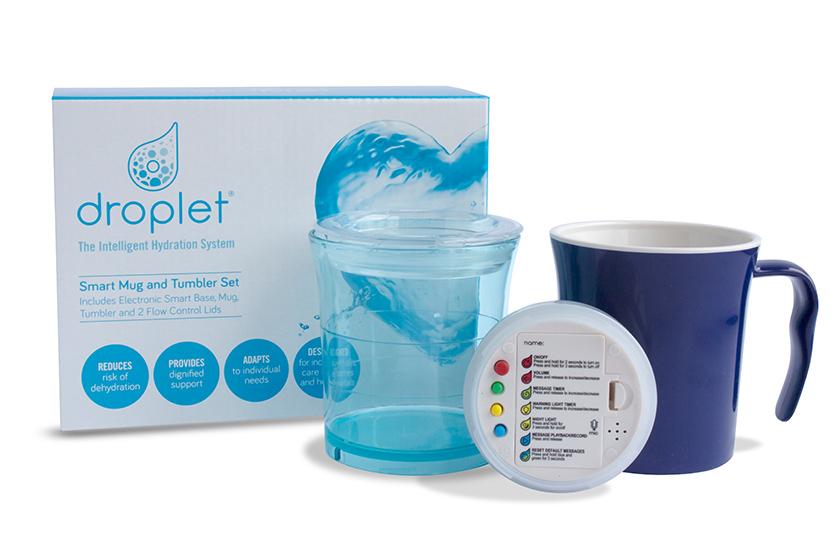 Residents in Sanctuary Care homes across the country are being supported to stay hydrated through the use of specialised cups.
The leading care provider has rolled out the use of Droplet Cups in its 102 homes. The drinking cup, which is equipped with specialist technology, indicates when the cup has not been lifted through the use of lights and audio cues. The cups light up every 20 minutes if they have not been moved, providing a prompt to residents to take a drink and an alert to staff.
Use of the cups is seen as one of a number of ways of tackling dehydration among residents, which can cause headaches and dry mouth, as well as dizziness and an increased risk of falls, pressure ulcers, low blood pressure and medication toxicity.
The technology is one of the latest to be introduced by Sanctuary in its care homes to monitor residents' wellbeing, with others including an in-house developed care planning app and electronic medication management. Sanctuary is also piloting acoustic monitoring.
Not only are the cups ensuring residents stay hydrated, but they also promote independence by acting as a memory aid for residents to take a drink, which encourages movement, rather than relying on staff.
Sanctuary's electronic care planning app, kradle, also ensures staff can identify times during the day when residents have the highest fluid intake, allowing them to tailor care accordingly.
Sarah Clarke-Kuehn, Sanctuary Group Director – Care, commented: "We continue to take advantage of the latest advances in care home technology which bring benefits for residents and staff, and enhance the quality of care we provide. The introduction of Droplet Cups is just another example of this and how we continue to enrich the lives of all residents in our homes."
The cups were trialled in one home with two residents living with dementia and another with impaired sight. The amount of fluids drunk daily by residents before trialling the cups was recorded and compared to the amount after introducing the Droplet Cups, with an increased average consumption as high as 24 per cent recorded.
During the trial, staff also witnessed a sense of community among residents, with others in the home assisting those taking part by encouraging them to drink when the lights came on.