Care home in Redditch is enjoying Portuguese port tasting in 'Lisbon'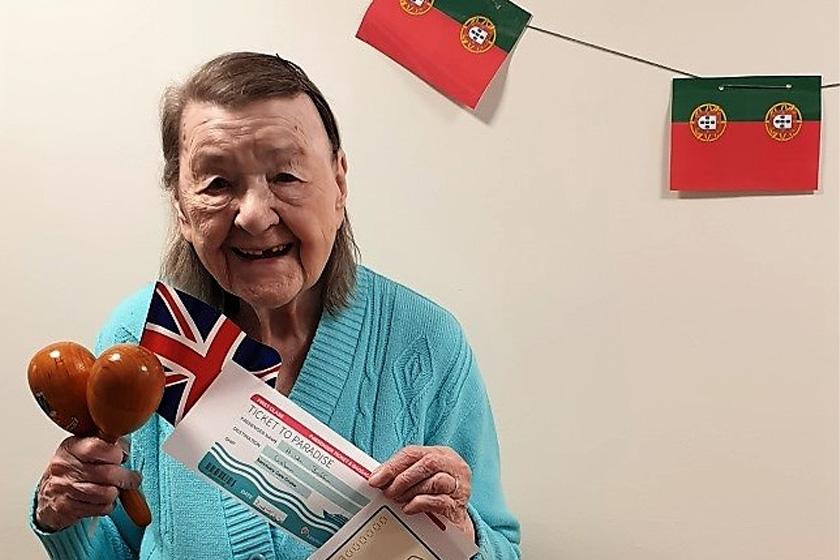 Residents at Sanctuary Care's Brambles Residential Care Home in Redditch are busy enjoying a holiday of a lifetime as they take part in a two-month long virtual voyage.
And this week passengers of the Birchfield Road cruise-liner are in 'Lisbon', getting set to taste Portuguese port and creating beautiful Azulejos tiles to decorate their own 'ship'.
Thought-provoking care home activity
First class cruise passenger, Elizabeth Wreford (93-year-old resident) said: "We are in Lisbon at the moment and all the photos are just magical. And the excursions are great too, my personal highlight for Portugal is the port tasting."
Proving the national cruise initiative which has been rolled across all 100 care homes, is truly thought-provoking, Crew Member Fiona Morsy (activities coordinator) added: "Elizabeth has never been abroad, and she is really loving the experience – it's a new life experience at the age of 93.
She is amazed at every photo, tradition or cultural fact we discover and it's bringing back wonderful memories of her own holiday breaks in England and Scotland. She can't really believe how much things have changed and is loving every minute."
Follow the Sanctuary Care Cruise
You can find out where else the Sanctuary Care cruise-liner is voyaging to throughout July and August.
Follow Ray's and all our residents' journey on our social channels (Facebook, Twitter and LinkedIn) or simply search #SanctuaryCareCruise.