Double celebrations on the Sanctuary Care Cruise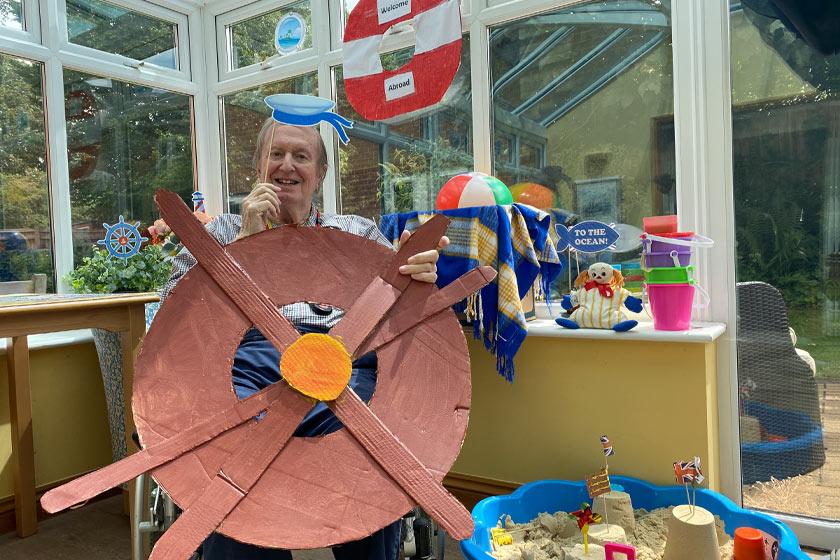 A Sanctuary Care resident from Wantage Nursing Home in Oxfordshire has double the reasons to celebrate on the home's virtual cruise.
The nursing home in Garston Lane, is taking part in the company-wide virtual cruise, where residents and the team, playfully now known as passengers and cabin crew, are re-creating European holiday hot-spots from across the world throughout July and August.
Holiday of a lifetime
Boarding passes in hand, one particular resident explains why the cruise-liner experience really is 'a virtual holiday of a lifetime', where he and his fellow passengers will be exploring traditional flavours and cultures of eight far away destinations across Europe.
First class cruise passenger, Ray Ward (who turned 85 yesterday – 6 July) explains: "The virtual cruise is a great idea. I have recently beaten coronavirus so it's nice to celebrate in style and 'travel' Europe. Who could ask for more? It's just perfect, and this week I am celebrating my birthday in true Portuguese-style!"
From Covid to Sanctuary Care Cruise
So, from feeling really poorly with Covid-19, passenger Ray is now enjoying the high-life in picture-perfect virtual locations – and here are his exciting travel plans:
Lisbon, Portugal (9 – 10 July)
Malaga, Spain (16 – 17 July)
Nice, France (23 – 24 July)
Rome, Italy (30 – 31 July)
Valletta, Malta (6 – 7 August)
Athens, Greece (13 – 14 August)
Limassol, Cyprus (20 – 21 August)
Istanbul, Turkey (27 – 28 August)
Follow Ray's and all our residents' journey on our social channels (Facebook, Twitter and LinkedIn) or simply search #SanctuaryCareCruise.